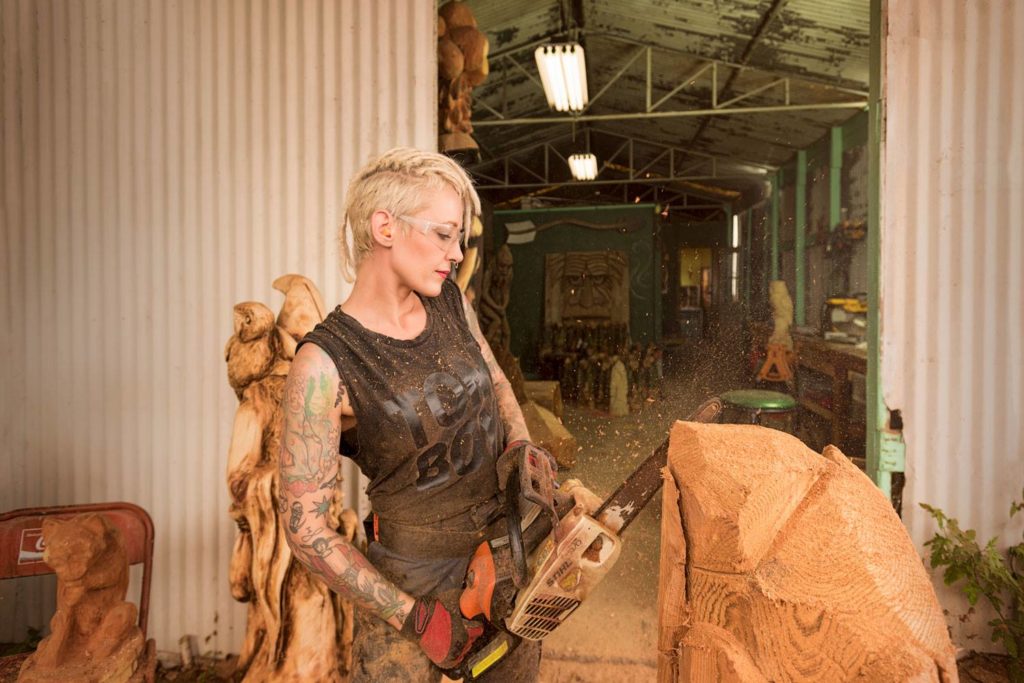 Griffon Ramsey is rising talent in the world of chainsaw carving. I first met Griffon at a Stihl chainsaw event at their headquarters in Virginia Beach, where she did a chainsaw carving demonstration, after which we could try ourselves. I failed horribly at my first carving, and gained a new found respect for chainsaw artists. Turns out it's hard work to sculpt things out of wood with a heavy saw.
In this episode Griffon shares her journey into chainsaw carving, her life in Austin, and few tips for those who'd like to create chainsaw art.
GriffonRamsey.com
YouTube
Instagram
Facebook
Read the full transcript of our podcast with Griffon below.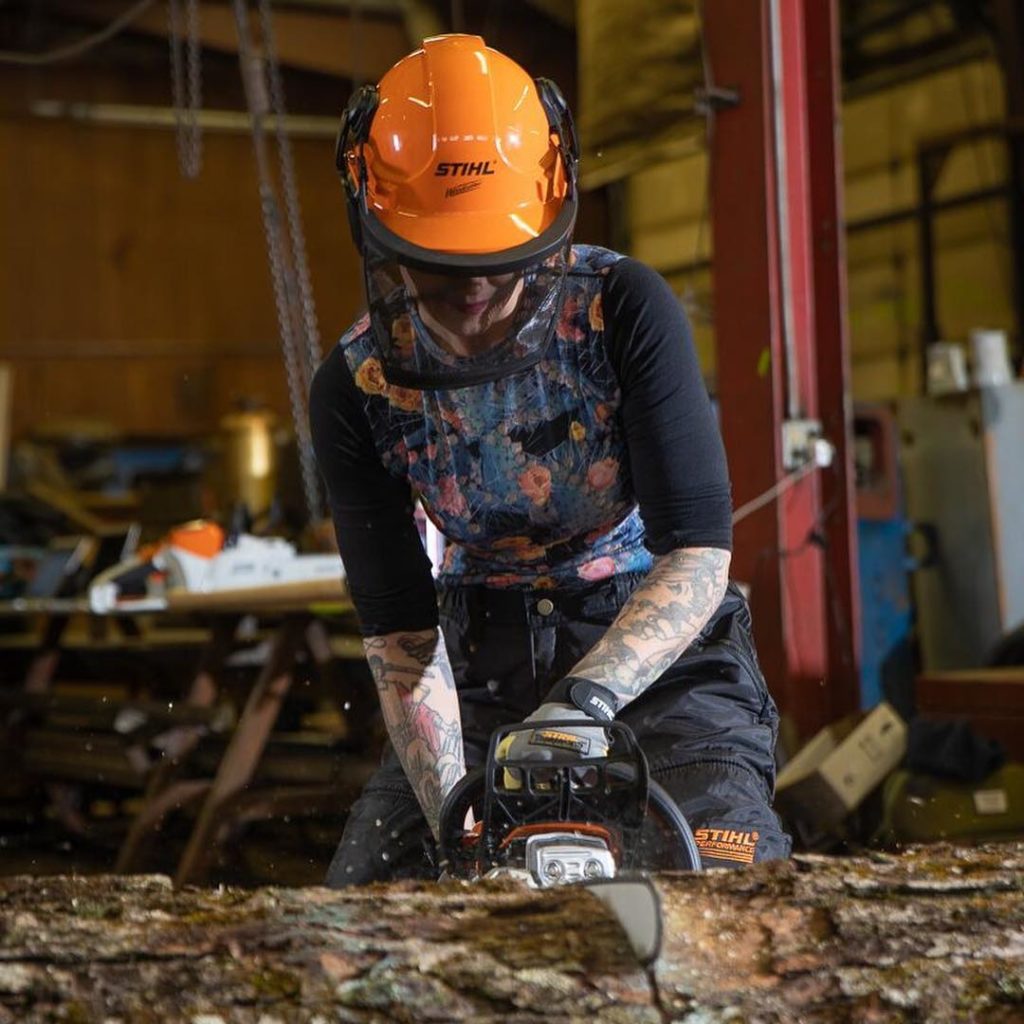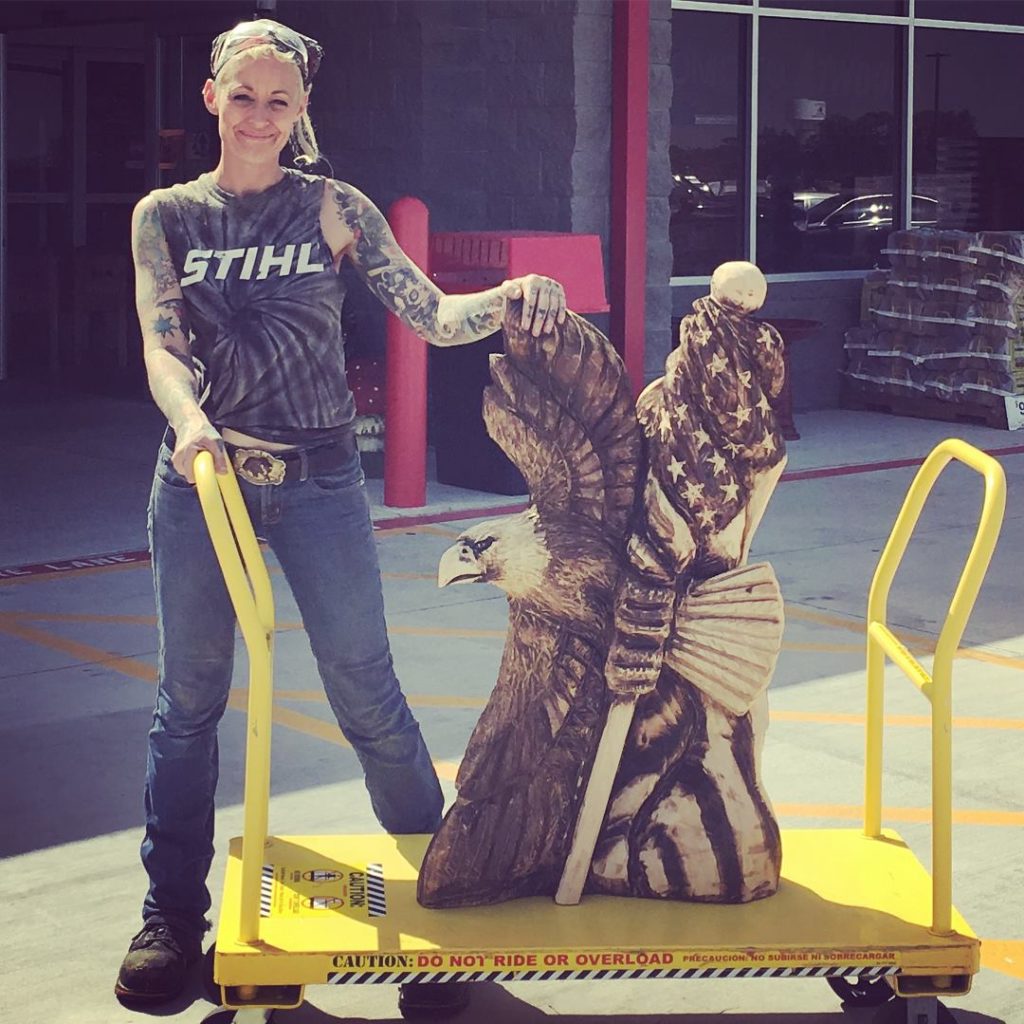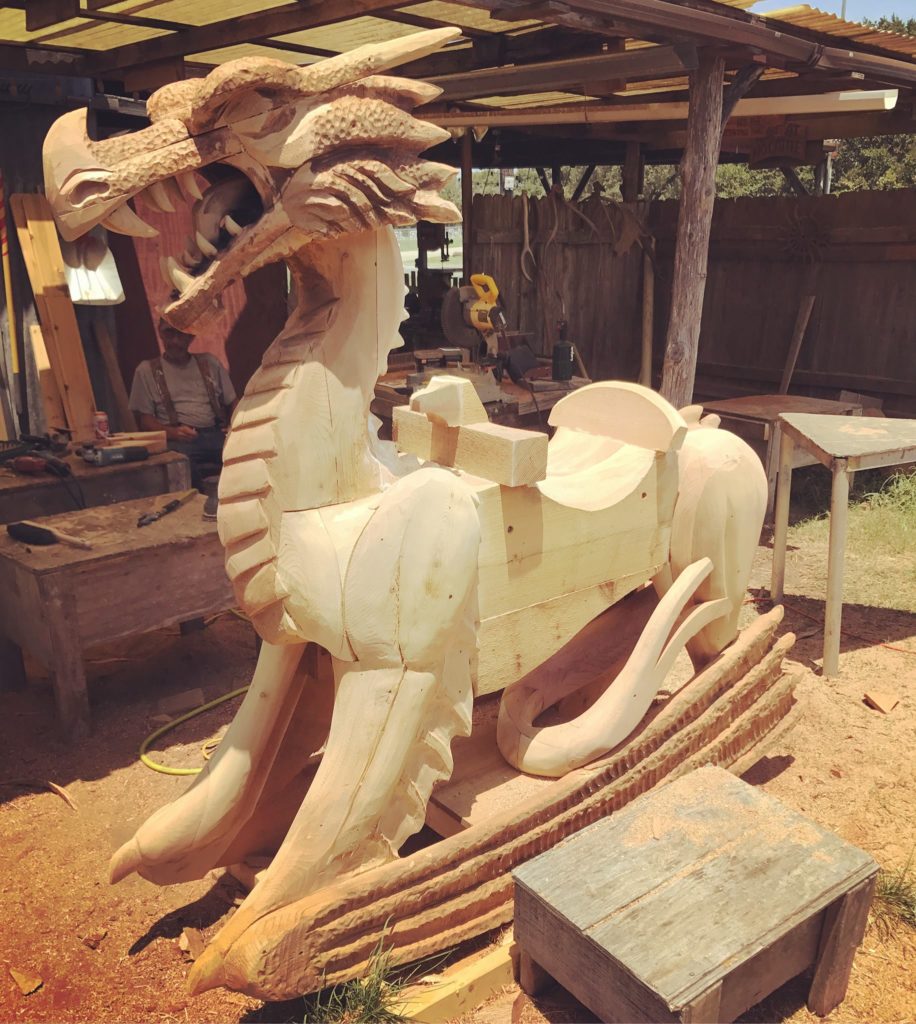 Timothy
Today I'm chatting with Griffin Ramsey. She's an accomplished chainsaw artist who's based in Austin, Texas, but travels the world carving wood and ice. I first met Griffin at a Stihl chainsaw event at their headquarters in Virginia Beach, where he did a chainsaw carving demonstration, which I failed horribly at. And our conversation covers our journey into chainsaw carving for life in Austin and our latest projects.
I am here with Griffin Ramsey. Hi. Thank you so much for coming and I appreciate catching I feel like really fortunate to catch you You hear in LA? Because I know I follow your Instagram. You're all over the place. So, so thank you.
Griffon
Yeah, I'm based in Austin, Texas, but I've been trying to make it to LA more. Because I love the west coast in general. But LA is a fun place to be.
Timothy
Yeah. And I was thinking back the first time I met you, is that in Virginia Beach, and you were working, or I was there in media at a Stihl chainsaw event. So I didn't actually have a question for you. Do you pronounce it steel? Or still?
Griffon
they pronounce it steel? Yes. And well, in Germans in German, it's steel. Okay, American internally in the company. They say steel. Okay, so when you say that real steel. That's a way for me to remember it easily. It's real steel, hashtag Real Steel,
Timothy
right? Why I asked that too because somebody corrected me. When I said steel, they took me aside and said, Oh, it's actually still wait, Who told you that somebody at the company know somebody, a DI wire person who was talking about I mean, they don't work with steel, but they were I was mentioning that and they corrected me and wanted to make sure I really
Griffon
knew Do you still have the information? Do you want to call them right now? Well,
Timothy
maybe I'll have them listen to this from your, from your mouth. But um, and I didn't I kind of at that point wasn't quite sure. I said, Okay. I didn't challenge them on it, but I was pretty sure even on their website, they say steel you said so
Griffon
for sure. Well, I mean, I think that I've heard people like refer to it both ways. And I think a lot of like, I don't know, homeowners and stuff will probably say still because it is written that way for an American, right. But yeah, in the company, they say steel, okay.
Timothy
And because we're talking about chainsaws, you are a chainsaw artist Carver?
Griffon
Yeah, and I mean, both Carver's like I definitely call myself a carver but I've been my on my Instagram and everything ever change the artists, I guess because I am an artist. So I still want that word in there. And I've thought about this a lot over and over again. And the we have these conversations in the carving world to how best to describe yourself, right? Because there is a stigma around chainsaw carving, that it's this like very folk art, you know, square At a state fair type thing that, that that's where it belongs. And I think there's a lot of really amazing people getting into it now. I think, well, in the past, I think it was a lot of people from the lumber world decided figuring out that they can make art with the tool they already had. And we're using. And now especially because saws are getting, as the technology improves getting so much lighter, and geared toward homeowners and not just lumberjacks, that more and more people are discovering Oh, wow, this is a perfect tool. And sculptors especially like people with you know, art backgrounds and you know, that are doing something maybe a little bit more complicated or highbrow, or discovering the chainsaw is really a perfect tool for sculpting. It really is It's so fast and it cuts out so much of the stuff the time you'll be wasting blocking out. Mm hmm.
Timothy
And are they using electric chainsaws? Now? Do you see that more often are they?
Griffon
Well, the batteries are definitely improving. You know as far as how long they last and the strength and I do use electric and battery in certain scenarios. If I do anything Like a live indoor show, for instance, I carved it the Ace Hardware, the Dallas spring show, it's gonna be a big convention like you imagine a comic convention but full of like hardware people tools was awesome. But they had their meetup in the spring and they hired me to come and carve and it was all indoors. So I can't use do anything. fumi and so that's a great time to do it. Use the electric and battery, it's also quieter, okay. And I do like using electric sometimes, especially for like, if I'm doing something detailed, and I have my little detail battery saw, because if you don't have to crank it, like if you're already tired, and you'd have one little thing to do, you just, you know, hit the button and it's going and that's kind of nice. And I think a lot of people who may not have a lot of chainsaw experience but want to use it for cutting limbs in their backyard or whatever. I think they get people get intimidated by the starting process sometimes I know I do for lawn mowers like I just want to be out there publicly embarrassing myself, you know, pulling on that whatever. And by the time you get started, you're tired sometimes. So battery is great because it just starts going.
Timothy
Yeah, I think with a battery even it even Once again, going back to gas, the issue with like you said the first starting but also, I just get frustrated when I'm coming back to it and I haven't done the right things to make sure it's gonna start again and have that issue so that's why I've kind of been championing cordless tools, Yeti coolers outdoor tools, it just seems, especially for the homeowner like they're just not gonna mess with the gas.
Griffon
Yeah, and having the gas oil mix and buying two stroke oil and all of that, you know, it's more preparation to do gas. And so if you don't need tons and tons of power, right, you know, or you're not like cutting all day long. I mean battery is really great. And so
Timothy
when you travel you ship your sauce separately has at all how to sell
Griffon
well, it's a combination sometimes I'll borrow especially if I'm doing international like I did some I worked on an ice temple in Slovakia in November and I just I mean getting to Slovakia was already challenging enough, right? And I was didn't want to deal with the tool. So I just borrowed what they had on site. But sometimes if it's something like there's an event coming up Chatwin it's a big chainsaw carving fest was one of the biggest or the more like highest status, chainsaw carving competitions in the world. It's in British Columbia. And I really don't want to be borrowing tools because that the downside of borrowing is it's like a high stress you don't know what you're getting, you know, so I'm going to have steel, I think send me some saws up there, one of their dealers, but then I can travel with my electric, like my, my grinders and Sanders and detail tools travels and stuff and I usually put those in a suitcase and check them and you can actually check a battery satu Oh, so I did some ice carving up in West Virginia and I packed my saw and I've got this great picture on Instagram. I'll send it to you for a show in Pennsylvania recently where I figured out I can fit an entire ice carving kit in like one of those rolling and like check you know, like check bags like that. No, like the little hardcase carry on bags with the wheels that everyone has. that'll fit in above compartment. Why just check that but just that little thing I was able to fit a battery saw to die grinders and angle grinder. Let Dremel or a couple of demos all my bits like, I have a rubber apron because it was ice carving or other things. It was kind of funny. Like I was kind of amazed that the whole shop like in my little suitcase and it hit the
Timothy
weight there wasn't a weight limit issue or anything like that was
Griffon
fine. I mean, well, because I have to check the lithium battery. Yeah, they go into your carry on right? So and a lot of the weight of those battery sizes the battery true, because once you take them out, it's just like plastic casing. And that is one thing. I think that is really opening up chainsaw carving to a lot of people who are interested in growing, especially women is that saws are getting so light, like my smaller details. So I think it's like seven pounds. That your gas, my guess? Yeah, I don't know about the battery. It's a little heavier, I think probably 10 pounds or something? For sure. So you could I mean, I still think when I first started carving, it took me a while before I could car for more than a couple hours at a time before I was like tired.
Timothy
Even a couple hours out because at this demo I you gave us opportunity to try it. Oh right. So We were these editors out there and it was raining. We were under this little tent. And it was that was
Griffon
extreme weather. And yeah,
Timothy
that added to the difficulty, but it was still just the fact first having the vision and knowing you know what you're doing, but then also, holding the stop saw was was difficult and heavy after just a few minutes. I felt
Griffon
Yeah, you have to get some stamina for it for sure. And then yeah, that is. And then if I take too long of a break, like right now, this is my busy season, and I'm doing a lot of spring shows. I do a lot of carvings for like tool companies that have an opening and they want to have some kind of fun thing for people to watch and also share the tools and actions right so that's been kind of my, the bulk of what I've been doing lately. And so right now I'm feeling really in shape and like I can go and carve all day and then carve the next day and I'm fine but then I'll after the winter coming back into that, like the first couple shows I'll be real sore the next day. I'm interested in this season I'll be like super buff. So it's
Timothy
carving shape is this certain thing that you're because you're in season and you're just
Griffon
Yeah, okay, well and then Not just the stamina of like working all day and holding the tools and going for it, but it's also like there's a certain like fluency in the sculpting especially in any kind of speed situation I need to go quickly, where like I can see if I take a video of it I can see in my body I've haven't heard for a while because I look like awkward or I'm little like choppy and my movements and like not really flowing. But the more in shape I am, by the end of the season, I've been carving a lot like us all look a lot faster, more confident, more fluid like I can. And I can also see things more clearly in my head when I'm carving. If I'm in practice,
Timothy
or these competitions near the end of your season or
Griffon
well those are different. It's for wooded, most of the chainsaw carving for wood stuff is spring summer, because that's when you can get the crowds out there and everything. But I just started doing ice sculpting and that's opening up my winter because a lot of those shows have to do with the holidays. So now I just need something for like late fall and I'm set
Timothy
Are you still competing regularly? Is this something that is part of your? Um, well, I right now,
Griffon
last year I did. I was in two international competitions. I was at the zero cap in Japan, which is in Sri Macau, which is in Hokkaido. So I went there for was like a three day two or three day event. And that was a competition. And then before that, I was in Germany for a speech I was on the speed carving team, the Czech, so they didn't have any room. They didn't have any Americans there except for me last year, and so they were putting together as the big competition. So you have like one person doing like a really large scale sculpture. And you have like several like superstars doing these really large scales up but then they also have like teams doing speed carving, so the Germans are teamed up against the Czech, but the Czech team was really like a guy from Poland. Me, like Czech Republic, also Slovakia like kind of mixed together. And so it was sort of a regular team of internationals on the Czech speeding car and I'm not a ski Carver and I felt so bad for those guys, but they were nice about it. But there's no competing with those Germans anyway.
Timothy
Okay, and you were doing you were the only American there.
Griffon
Yeah, that last year I was the only American this year I wasn't invited to the Husky cup. So I think there might have been an American or some Americans there this year, but different people.
Timothy
Do you follow the timber sports? A little
Griffon
bit? And actually, that's one of the few sports I can watch and stay interested in a while. Okay. Yeah, I think it's interesting. like to go to when there's an event in Milwaukee things that big American competition, okay.
Timothy
Yeah. And is it something I mean, do you obviously you're watching it from a different angle, because you work closely with these tools, and you know about how they work. And I see some of these highly modified, they're not even I guess you'd call them a chainsaw because they have a chain in the back. But yeah, they're just like with a big big. Yeah. I mean, they're look impressive and scary and amazing. But when you see that, is that something that you'd ever want to try? Or is that something that just just an extreme version of Have people in the chainsaw industry?
Griffon
Well, I'm interested at what I've just tried to do some axe throwing, because that's one of the things that they do, right. And that's become kind of a hip thing lately, and I'm terrible at x ray Actually, I just, and people made the assumption my friend invited me to her birthday party at this place called urban access and Austin, and they all thought that I was going to show up and be amazing, right but a totally different skill set. And no, I was not
actually the worst in that place. I don't think I'm gonna go back there because they they announced everyone's scores, and they point out who's the worst. Oh, wow.
Timothy
And you're like, yeah, the chase archiver she came in last year right? I've seen those things pop up now. Everywhere. Yes. Kind of. It's interesting.
Griffon
Yeah. I like this sort of like like lumberjack you know, what is it like a hobby hobby lumberjacks out there or whatever? No, I think it's cool. I met the team actually, the event that you and I met at that steel influencer event. The next year they did women It was a lot of like women in media in the tool world. And so that year, they had the the women so You were there. You had the male timber sports? Yes. And then the year after they had the women's timber sports group cannot even Yeah, I didn't even realize they had. Yeah, the organizers thing are based in Maine. But yeah, they came out and then they did some exploring. I got to try it then that was the first time I tried it. And I managed with them maybe they were good at explaining it. And it wasn't such a high pressure situation, right. I I saw
Timothy
again, Instagram video recently somebody a woman through it, and it hit the ground, and it bounced right back at her. Well, I had to duck and she was laughing but it could have looked like it could have taken her out.
Griffon
Oh yeah. I'm sure they're probably pretty used to
Timothy
Yeah, wild things. Yeah, I guess I've never been but I assume you signed a release and so there's all of
Griffon
well, they do have good they can bounce back especially if you're aiming at targets and stuff that we're worried about I'd never happened I never managed to throw within a force to even worry about that. But
Timothy
it's like it's just gonna stay it's not going
Griffon
I don't think I'm gonna be a timber sports Okay, no stick to the chain sighs Well, I mean they do you write the chain says I have For the temperature, it's a crazy thing about like exhaust pipes. And I tried to pick one up at the one that you and I met right there, the guys there. And he was like 60 pounds or so it's not Yeah,
Timothy
they're not. Yeah, they're there. You have one job to go through as fast as they can.
Griffon
Yeah, for sure. It's super crazy. I think it's cool. All those guys, but definitely a weird art form or an hour from I guess it's a sport,
Timothy
right? When did you first pick up a chainsaw?
Griffon
Well, the first time I picked up a saw was when I decided to try carving, chainsaw carving, and that was in 2011 in the fall, and yeah, cuz my dad never took me out. I never had that, you know, male bonding experience or whatever. And I'm not making the assumption that all men do, because I don't think all men do at all. But I do think that women tend to be less likely to get those early lessons to get comfortable with tools. So but I did have some cool experiences, my backgrounds in theater, and I had done set construction, so I had a little bit of comfort with that. And then but the chainsaw is a little bit more intimidating. I guess. So I really I was at the time I was leaving a job. And I had been working in making online content and that kind of things, were earning a webcomic. And it felt a bit of a following through that job. And when I was leaving, I wanted to have a place to direct all those people that I had control over, because at that point, I was blogging internally in the company and the heads around site and everything. And so I was gonna try chainsaw carving, really only for one video. The goal was every video that I put out on YouTube or Facebook or whatever, was going to be something similar to what I was doing for them. And I was making a lot of like pop culture and video game props. And like, little I don't know, props in sometimes costumes and just, you know, little things that were kind of around the world of gaming and popular movies, television, whatever. And so I plan on doing this more of that like something different every time some some kind of inspired prop or whatever. The first one I wanted to try was that Gears of War logo because the game Gears of War Three was coming out like, Oh, I should do something with Gears of War Three because that'll be a good time to launch this. And they have that gun in the game the Lancer that's like a chainsaw gun
Timothy
was one of the few games I did play. Yes,
Griffon
yeah. Okay, so I was like, Oh, I should do I really want to try I've been wanting to try change the carving since I was kid. I grew up in Oregon, I saw it there. So I want to try it. This will be the thing I tried chainsaw carving for I'm just gonna do one video, it'll be real powerful. We'll be like, Hey, this is me and like I'm doing this thing you know. And then I picked up the software that and I try and make it I did some practice cuts on some firewood, never finished anything and then just enough to get comfortable and get it started. Get a carving bar, kind of modify, I get the chaps and actually I didn't have chops yet at that point. Because the first video I put out with carving didn't have chaps or anything like I'm kind of embarrassed now. Like, started learning on camera for all the world to see. And so sometimes people come and give me a hard time about seeing me sharpen in a video or whatever that's like five years old and I'm like, come on. Like that was the very beginning. Well, it's my fault for putting it out there. But so it's been interesting, but yes, I tried it this one time made this gear. And it's just and then it took me on this whole other path that I wasn't expecting to be a carver. I was just going to try it for this. Just make a video. The background is really video stuff. I liked it so much it was, yeah, super cathartic. And it's really it's very satisfying. It's definitely one of the most satisfying things that I've ever done. And yeah, it's really enjoyable. And then then when I met the community of people who do it, then that changed my life as well because I just found so many amazing people like self starter fringe entrepreneurial artists, people that are tough and like wild and and scray. They're semi nomadic because the ones that do it for a living like travel all the time. So met the community and then started getting invited to events and started getting a lot of travel opportunities threatened so travel is like a huge passion of mine for my life. And I've gotten so many opportunities through chainsaw carving, it's like completely unreal. And I also found that when I started putting pictures of what I was doing so much I was interested in it but so many people got so excited about it. Like people I hadn't heard from since like high school, you know, got a hold of me we're like talking about it like it kind of is it's this enthusiasm was more than just me It started just to accumulate. And so that's really kept me going. I have a hard time focusing in general I like to do random stuff. So to be able to focus for the last seven and a half years on one thing has been I haven't done it perfectly I don't carve every day. I'm not like a lot of the obsessive Carver's that I know that really that's their thing, like I still mix in video and do other things. But it really has taken a lot of my focus, and just provided me a lot of really interesting experiences. That's amazing. Did you have a mentor or somebody who really
Timothy
Yeah, I just showed you that I would think maybe show you the way Yeah,
Griffon
so it's a two part thing. Like I think people who get started doing chainsaw carving, you kind of have to be the kind of person that just goes and is going to pick up a chainsaw and try and hit your head again, not hit your head against the wall literally but like try Err, just go figure it out, work on it. Because there's, it's not like you can go just take your local community college course and chainsaw carving or whatever. But it was very helpful to find mentors and find the community because you can start to really make those strides and learning and not have to just do everything through trial and error. And I've when I first got started, I went down. My ex was like, hey, but there's these guys, this guy that south of here about half an hour who does change the carving I know about you should just go talk to him when you're getting started to see how to you know what tools you need. And so before I actually did this first carving and went down there and to talk to him, but he had this other guy living at the same property carving in the same space. So the guy I heard about was Doug morlan. And he is this like locally famous singer, songwriter, country musician. He also just changed a carving he carves cowboy boots and armadillos and Road Runners and Texas type things. And he is awesome, but he's on the road almost all the time for being a musician. So he was like, I don't really want to I don't have time, and I'm not a teacher, so I'm probably not going to teach you but here's RL Blair. he's just he's taught me a lot. He could probably teach you to this guy. He at the time he was in his late 60s, his early 70s. Now,
I saw I talked to him, I'm like, Hey, can I get a lesson? He's like, well, I can maybe give you an hour lesson or something. And carving it out.
Yeah, just like, I'll just make a cut. You make a cut, you know, and we'll just do that until it's done. So he has his own piece. I have my own piece. And then by the end of the day, he called me up. And he had had he he likes to drink beer. So he was a little he had had some beer that day. He was like, I quit. I'm like, you quit what he's like, I don't want to teach you. I'm like, okay, and like, the first lesson he called, he called me. He quit anytime he's quitting the whole damn thing like quitting. What like, what are we quitting? He's like, just, he's just in the mood. So I'm like, well, and I was starting to worry. I'm like, Well, I really could use some help and going, so I'm like, Well, what if I just come out? And just hang out, and I'll work on my project. And if you see me doing something dangerous or stupid, you stopped me? And he's like, all right. Yeah, fine. Just come out. And you can work out here a little bit. So I came out of it. Brought a case a lone star is the National Bureau of Texas because we have a national beer there. Of course Um, and I just kept coming by and bringing like, you know, six pack of beer and like sort of paid for my education with Lone Star
Timothy
that sounds like the most ideal way
Griffon
to get somebody fine and of course he was really giving with his information and stuff then and he's got some really amazing stories and he's just really funny a lot of really great one liners but definitely honoree Okay, which is it's another thing you'll find a lot of Carver's two big personalities, you know, people living on the fringe. Okay, but so the thing that's really interesting about RL Blair Oh, there's several things interesting about him, but he was one of the main Carver's for Disneyland for like 20 years. And he was like carve some of the first like, Pirates of the Caribbean figureheads, Tiki Room, and birds you know, like, you know, character totem
Timothy
pole things you might see when you go
Griffon
Yeah, a lot of the character stuff that's in wood he carved and then on only in California, but they also shipped his stuff out like around the world to different parks. So he had done that had A lot of really amazing experience. But before he made it to California, he was born in Washington. He went down through Oregon in the 70s and 80s when I was kid, and so when I was first inspired by chainsaw carving, well, originally, my interest in wood carving came from my grandfather who was a littler in his spare time. So I had this interest in wood carving, because it was a sort of magical process. And he would create all these little things that were so prized by everyone in the family. And we're always so proud to get one you know. So we would do a lot of family weekend trips out to the coast because it was about 45 minutes from where I grew up. So there was this place in seal rock, Oregon, which is like just a little bit south, I think of walport. And it was called CLG. Actually, CLG is still there, this trading post, chainsaw carving gallery, but at the time, it was a lot more like a place like a destination and it turned into the it was sort of like an off the grid, amusement park, unsanctioned amusement park type thing where you could like go up and they're all these carvings and totem poles and things but you could go walk behind it through the trees. in the wilderness, and there were like pads that have been created with like, little weird buildings and things that were like mechanized carvings that were mechanized and moving and, you know, like, characters hidden in the trees. Lots of fencing was like a fun kid. Oh, yeah, definitely. And when I first saw my first totem pole, I was just totally mesmerized. So, yeah, Oregon coast, a lot of chainsaw carving. So from that early age, and that age, I was like mesmerized by carving, but mostly from this one place that was so wacky, see Gulch. And so years later, 30 years later, I'm down in Texas and I wanting to learn and talking to RL Blair and come to find out he was, he was working at Sega at that time when I was a child with this, the Kawasaki family who's still there, and they own it. And this the sons on it, like the dad who's passed away since it was his friend, and they used to like team up and they made this whole weird amusement park thing or whatever. And so the first place that inspired me for carving 30 something years later, I happen to run into the guy who made it in Texas, and he's going to Caught me.
Timothy
That's a very cool it's really
Griffon
meant to be right.
Timothy
Definitely he planted that or his work planted that seed in you and then you ended up just living not far from him and being able to do that.
Griffon
Yeah, for sure. And he's sort of become kind of like a second dad in some ways. But I haven't called him problematic as I would call them. That's very deadly. Thank
Timothy
y'all need updates on that. So yeah, um, wow, that's, that's very cool.
Griffon
Yeah, it definitely felt like you know, upstairs, I was hanging out with you and your family. And we were talking about the the manifestations, or like, moments where we suddenly feel like we have some influence over the universe around us in a weird way. Or it's like you put that thought out there and it comes back to you. There are things like I've definitely don't feel like an atheist. I don't know that I have any kind of religion but there's so many moments in my life that I that feel those things happen and they line up and it's like, this doesn't seem This is so unlikely, right? You know, and carving finding carving, finding him has definitely felt like one of those like, I would Like I was guided to it,
Timothy
the universe making making things happen that are
Griffon
aligning that, I think might be why I've gotten so excited about she was just how much once I started doing it. And when you find that passion, right, and your people can see that you're passionate about it, suddenly, everything lines up to meet you as well. And other people get interested and excited for you because you're, you're emitting something or have some kind of magnetism around it, or the thing. And carving has definitely sparked, I think, a lot of interest in the people around me. You know, I'm always really proud to talk about it, too. When somebody asked what you do, what do you do? Like it's really the coolest thing to say? Anything, anything cooler? Because I know some people make some good money, but we asked them what they do. And they hate talking about it. Right?
Timothy
It's like, and that's their life.
Griffon
Yeah. And if they want to talk about anything other than that,
Timothy
right, yeah, totally. Now, that's fascinating. And the fact that you personally originally went to, he didn't have time where he recommended RL Blair.
Griffon
Yeah, well, and I did. At the time, I kind of felt like he was blowing me off, but now I gotten to know him. Like, he's just a traveling musician, you know? And so that's like you He's got his world set up that way. And I don't think he was didn't probably just wasn't interested in becoming a teacher. Right. And not everyone is a teacher.
Timothy
True. You know, a lot of I think maybe artists especially, they're kind of they know what they'd have to do they know what they need to do, but to Yeah, share that work with somebody else or teach that,
Griffon
especially if they found it organically through the trial and error process, because it's not like they were taught a technique or it's like they cultivated over time through what they do, and like, how do you transfer that information? You know, right, especially if you've never thought about it necessarily. You just know how to do it because of experience. So that's where it's difficult for RL because we've built some things together. We built a Bartow, which is like a Romani wagon. And we built a rocking, I'll actually read them in LA right now. built this giant rocking dragon, which is like a rocking horse, but for adults, and it's a dragon, right? So it's here now kind of on tour in LA as a photo photo booth, like a pop up photo booth so people can ride on and take a selfie with it. Yeah, so that he and we worked on that together and I was amazing work with him because he's got so much knowledge and joinery in carpet. Which is I'm lacking in like, my background in construction is from theater. So it needs to last like a week look good from 2030 feet away.
Timothy
Like I think it comes down
Griffon
comes out. Yeah, like immediately so I'm learning about carpentry but as far as like to making something structurally sound where seams are perfect and everything, like he's, he's got all that knowledge. So we worked on it together. And but it's challenging to work with him because he he's so he's so used to working alone. And he doesn't know how to transfer the information. And he's, he's designing while he's while he's doing and he's designing in his head. So if you ask him a question, it distracts me gets annoyed. It was really challenging. At one point I had to like halfway through the dragon project. I was like, we had a big fight. And I'm like, fine, I'll come get the demo to take the dragon out here. He's like, Can I get that dragon out of here? I'm like,
Timothy
that sounds like I need to see that show about that or something? Oh, can
Griffon
I tell you? If I could convince him to do that,
Timothy
get on YouTube and do that. Well,
Griffon
I filmed some of it and unfortunately, I dropped the harddrive. So everything where I'm doing anything is gone. And it's all him down. Like, how am I supposed to cut this and make it look like I did the new part, but I really did work on this. That's amazing that it not dropping hard drives. But um, no, can I tell you, I've thought so many times, like, it would be great to have a little reality series about trying like working with RL just because we're so he's like this kind of crew. I mean, he's very hilarious, but very, like intense, pretty intense, I guess personality, you know, like, I'm not the only one who thinks this and he would agree as well. So I don't feel bad saying and he's older, you know, you know, just that generation different generations. And then, and then me, I don't know, it could be a fun little thing to show, but I don't think I could ever get him to do it because that dog that show saw dogs that was on for a while but chainsaw Carver's guy. It was a fairly popular reality TV show, but chainsaw carving. A lot of my friends were in it, but they asked they invited him to be a part of it. And I guess he didn't. He did like one day of shooting for the pilot or something and it's just not his scene. He doesn't feel genuine people hate the film. process even if it's a reality thing, because they make you do the same thing over and over again, and I try to act natural about it or whatever, say this thing again. And that's something I always have to remember if I do any kind of project, or I'm filming something carving and they're trying to film it, I know it's going to take a lot longer, the project is going to take a lot longer, just because there's always so much starting and stopping and trying to make things look natural,
Timothy
right, you could add in the extra 30% of your time to finish a project in that sense,
Griffon
for sure. And I think sometimes people who film get so excited that they they just want to get a cool shot. They don't they're not keeping in mind any practicality of like finishing a thing. Can you do that again?
Timothy
Well, if I do it again, it's going to change the outcome of what this is that sense.
Griffon
Yeah. Or even just like, well, we have six hours to finish this job and we can't spend an hour showing me sharpen or doing something that's pointless, you know, right. Like it's just a different way of thinking, get the shot,
Timothy
get the shot, and then it's like, yeah, yeah. The, you know, we went going back to that steel event, you know, they really, I think We're, in a sense, a kind of a surprise guest for all of us. And we were watching, you were kind of cordoned off doing your thing. And I think a lot of people want to, well, we had time to interview you or do these other things. But it was such a, like you said at time, you bet you. They want to make sure that you finished your project in time at the very for the very end, but so many of us, you know, wanted to have a chance to talk to you like I am right now. And they just, they want to keep it on schedule. So
Griffon
yeah, for sure. And I'm not the fastest Carver. And so it's kind of funny because I love working with steel, and I've been kind of have a relationship with them. And they've provided me with a lot of equipment, and I've done a lot of shows with them. And I think we really do gel and a lot of ways like I've loved a lot of people work there and I really do like the just the attitude of the people I've met and everyone seems pretty happy there. But I'm not like a speed Carver which normally you'd get like a speed Carver I think for some of those kinds of things. So for me, I'm always very aware of the time because I'm and then honestly even if I've finished something earlier There's always room for there's time if you need time for finishing and painting and whatever. So, yeah, we did around a little out of time there. And I think maybe if they had found themselves a speed Carver, there might have been a little bit more time.
Timothy
Will it be? Is that just a separate discipline? Like how does that
Griffon
kind of Yeah, what's there's this Yes, kind of, it's 50. You know, people have different styles and ways of getting to the finished product. A speed Carver is going to more likely go and block out basic silhouette fast. And then they spend the rest of their time going, then adding the little details. And that's great, but but you have to know clearly what you want in advance. And then you have this, like, you know, you've got this thing that you've made, and then that's the whole process. It's done fast. And for selling quickly. Crowd appreciation stuff, live shows, it's great because people want to see the beginning middle end, like right in front of them have the whole thing happen right in front. And with a change that you can do that. That's the amazing part about it. It's half performance art because of that ability. But other people have whittle away and they'll discover it's a discovery process, and they'll have an idea in their mind. But as they're sculpting because they're not speeding through it blocking everything out and cutting off potential, because when you're blocking out, you're also cutting out your potential.
Timothy
You've gone to one direction gets smaller with what you're
Griffon
Yes. And that's great for finishing on time, cuz you're like, Okay, well, I might have added something there, but it's gone now. So what are we doing, you know, but, but if you're for the large scale show pieces, you may not want to go so fast, because you're discovering you're adding, you have got room for detail, you can do like more complicated things, if you still have the material there. And so I've got a friend his thing is he always swoops out. So he'll make a cut, like, say, you're at the top of the log, and you're cutting down like vertically. And if he's like, Okay, well, I know up to here, and this is, this is gone, but then I'm not sure yet. So I'm going to swoop out so he'll just like, swoop out toward the bark and then cut it off. So then there's always that room at the bottom to do something else. And it's like, Don't cut off until you know. And so I prefer and just if I'm pulling away at my shop with all the time in the world, I prefer to widdle in and slowly find things but I've been doing more and more of my businesses. More More about the live performances. So I'm trying to get more comfortable with that just like fast blockout. And then I've got all the time to do you know, and maybe I have fewer options, but that's good, because I only have, you know, however many hours to do it. So it's just a different mate way of approaching sculpture.
Timothy
When we talk about steel, can you speak a bit about the equipment, you use the chainsaws and if maybe it's different from what you first started out with, but what do you what do you use to do this work?
Griffon
Yeah, well, my first I was an echo Actually, my ex bought it for me, because it was before I actually started carving about six years before I started carving. I just mentioned that I always wanted to try chainsaw carving. And he bought me for a Mother's Day present. I was pregnant with my daughter. He bought me a little chainsaw, and like, Oh, I can't start it now because I'm like six months pregnant, my belly sticking out, you know? So I put it in the basement. I forgot about it. And so that was this cute little echo is about seven pounds. I forgot what I don't remember the model
Timothy
that the homeowners type Yeah,
Griffon
just like a little homeowner saw and it had a regular bar on it and have a carving bar until they added it later when I started when by RL told me okay you need a carving bar so, but now you steal okay when that when that little saw died I tweeted to Husker Virginia steel and echo all at the same time Hey I'm the salt mine just died I want something similar like here's what I need it for this idea to be boy about this much I need it to be able to fit a carving bar. You know I had a little criteria. So I tweeted to steal echo has cornea and echo and Husky just didn't reply they at the time I don't maybe they've changed they really didn't know how to run their social it didn't look like they were very active or it was mostly like tweeting links. It wasn't like engaging with people
Timothy
we already carving into and doing like
Griffon
we're putting out there at that point. I was I think I've been carving it two to three years. At that point like I think it was about three years and that I started to have this relationship with steel. So steel Rebecca right awake Sarah on top of their social media there. They they had a bigger following but also I think they just said they were you know involved with it. They were like aware tech savvy. That was les Robinson. He's in the marketing department. He was running the Twitter and Instagram and he so he saw my tweet, like right away within a half an hour. He was like, Okay, yeah, how about this, this would this would work for you? And he's like, Oh, well, I see you've got it like a pretty good Twitter following. Why don't I just send you the saw? And you can let me know what you think of it. Like Yeah, that's great. So that was the introduction was steel started, they sent me a little chainsaw. And that became my new like, go to carving well, and I've got several saws and if you can interchange the carving, you end up having several so and now I think I've got 11 or 12 chainsaws. And so that's a mix of like I've got a battery setup. So if I never need to do like, corded and battery like indoor, I've got like a full a few saws that I can use. And then I have mostly gas beyond that. And then they all have different like some have like little carving bars, some are just the regular stock thing is for cutting the ends or like cutting really big pieces off. And then I have one that's got a power gouge attachment, power guy just kind of like a mini stump grinder. If you can picture the stump grinder is kind of like it's the same Sort of rounded off discs and then they have these gouges sort of like two gouges one on each side and then they kind of like bore out the wood. And so it's like on the on the end of this sort of some kind of like similar sort of chainsaw bar but on the end it's got this like belt driven gouge or two gouges and so that and I think I brought that you may have seen it, I think I brought it to that one event because it does make texturizing it creates these really cool textures that look like you spent a million years working on them but you do it real fast and so for like competitions and events where you have a lot of time but you need to put a lot of beautiful detail in there great because you can carve say like a face or an animal or whatever and you have this like, you know, very detailed out thing here and then you've got another one here and another one here. I'm putting emotion in the air this audio podcast will help you Yeah, slightly right anyway, so like different parts of the log, you'll they'll carve some really fine detailed elements and then you can take that power gouge and just texture everything texturize and make these like swirling, sort of Algae shapes and stuff in between them. And so you can make a thing that looks like super amazing that you've, like spent forever on, because you've got this like, little extra tool. So that when
Timothy
that way you have so many chainsaws, because you have a certain bar in them or certain attachment that you don't want to have to keep switching. Oh, absolutely, yeah,
Griffon
because it would not be feasible to keep switching them out. And then there's also a different power, you know, like some of my saws are like heavier saws that I use for blocking out that I'll have like a, either a regular stock guide bar on it, or it'll have I've got this one bar, that's amazing. It's called a toonie bar. So all the chains, the carving bars are names kind of after the size of the tip. So you've got quarter tip, dime tip, and obviously the quarter tips, the size of a quarter dime, tip size, a dime. And then the tuni bar is size of Canadian toonie. So it's bigger, it looks like it's longer and it's got a bigger end in it. So it can cut you can do some big cuts of it like you would with a regular chainsaw bar that you would get, you know at the store, but you can still cut on a curve like a big like a jigsaw,
Timothy
okay, so that's the benefit. To the carving bar, you can cut these curves and you can also cut a little bit with the tip. And it's like the chain is not separating from the bar like you typically would with a regular chainsaw. What do you mean separate? Sometimes when I'm doing it some sort of a curve, I feel like it's not
Griffon
Oh, like pulls out of the Yeah, right, right. Yeah, well, I mean, it can still, I suppose do that. But
But you can't really twist like, if you're in the middle of a cut, like you're just doing a straight cut with your saw. You can kind of if you want to like angle it out a little bit, you can change the angle a little bit. For the most part, you're kind of locked into that, which is ideal. Sometimes if you want to make a real straight cut, you just have to lock your teeth in or whatever, and then just go straight. But if you're trying to do some swirly kind of details or make a curve and ice curve, it's real hard to kind of twist something. So yeah, but the carving bars are like narrower at the ends and you can like swivel them a little bit more and like change the direction as you're making a cut. So you can do a real curved cut like a jigsaw.
Timothy
How much time do you spend on your chainsaw maintenance
Griffon
well I'm the wrong person to ask and not enough time but I do I've been trying to be better about it but I have made a have a relationship with my local dealership now where I've got a guy who's sort of helps me with my chain ordering and making chains and he also there those guys are really nice they know me now and I've done a carving show for them so they like they just take my saws and like just dropped them off and they can kind of get tuned him up and get him Yeah, like so. And I usually have been doing that lately just to save time because they have the knowledge but I am really wanting to learn more as and I'm trying to learn as I go because ideally because I don't always have those guys there like if I'm at a show and Canada or whatever and something goes wrong. I can pull one of my friends who's I'm competing against the side but they probably don't help me better to learn as much as you can to see or you know, able to do it on your own. I mean I back in high school I took an in like an lawnmower engine apart and put it back together again, I don't I think it wouldn't be the end of the world to learn some small engines, mechanics or whatever you know, but they're also getting a lot more computerized now
Timothy
and so highly tuned in it certain to certain attack almost has to be able to sometimes know Do dive into them a little bit more.
Griffon
Yeah, I think that the new steel saws and everything, they all have like computer chips and stuff in them. I think it's environmental reasons. Yeah. So I don't know. I mean, how much longer it'll be easy for people to just work on their saws. Right. But for Yeah, like changing up bars and, and like sharpening and you know, cleaning out filters and doing all of those things. I can do that stuff and I try to remember to do it more frequently. I'm trying to get better.
Timothy
I, I know we talked about this previously to the wood that you use is where you are in Austin is I mean, doesn't matter where you are like, how does it work with the wood that you source and would you use for the for the different work that you do?
Griffon
Well, when I'm in Texas and an Austin, I tend to work with Eastern red cedar, that's like the most Carnival thing down there. And I was buying from I tend to buy from this sawmill about 30 minutes or maybe 40 to 50 minutes outside Austin called Bastrop. They have a sawmill there. Wampler and then otherwise some horses Craigslist, a lot of times people will get ahold of me because they had a storm and they lost a tree and they don't want to turn it into mulch. They want it to be painted art. So sometimes I'll gather it though. I've gotten a lot more selective about the stuff I accept. Because at the beginning, I didn't know and I was just accepting hackberry logs and everything. And then I had a shop full of stuff that was bug infested that it couldn't go and I had to get rid of it. So now I'm pretty picky. And I there's also Cypress down there. So recently, there was a few years ago, there was a flash flood that took out a bunch of cypress trees on the Blanco River outside of Austin. And I got a bunch of those recently. So this year I've been carving mostly Cypress just because of luck. And Cypress is great, but as far as being able to find it easily. I don't know how easy it is to find everywhere. The cedars are easier to source. But the thing I like about travel international especially as I get to try different wood varieties because every Carver discovers or carving what's you know, locally available and best in their area. So that's the fun part of traveling too is getting to try all these different kinds of trees.
Timothy
Right? And is the word is that a big issue? Is it a big expense? Like is it something that if somebody was getting into it, where would they? Where would they start? Where would they source wood for something like
Griffon
this it can be a thing is like with carving, chainsaw carving, you didn't tend to not want to go and get the, the, you know, seasoned, hardened kiln dried wood, I mean, usually working with fresh stumps and right leg logs itself, some moisture in them and they're softer and easier to cut. So the and those are more affordable than getting anything that's been kiln dried or processed in any way. And the nice thing about chainsaw carving too is that if you go down to a sawmill or something, they often have those like where the tree branched and their y shaped or whatever they can't fit them through and they're not going to make boards out of them. That stuff just gets thrown in a pile and usually mulched so you can get some good deals and as a carver, that's those are kind of cool because they give you inspiration, these weird shapes of wood. And so it's actually kind of an I think it's pretty awesome art form for salvage material. You know, like the, you can do a lot with these weird pieces that can't be really purposed in any kind of building material
Timothy
right sound Like you're looking for with it's maybe the opposite of what would workers are looking for?
Griffon
Yeah, a little bit. I mean, with the exception you saw on something, it's a bummer to be really into your carving and then hit a run hole or whatever you know, and I've learned how to fix those things and and that's part of getting better as a woodworker choose from how to deal with those problems. But now that it's so funny because at samulet they used to give me really good deals. But they're the deals have gotten less good because they see me coming now and they want to sell it to their people that just want a ton of stuff at once. And I'm I'm getting better at picking Good luck Okay, and now they're now they're like ah, they're on it yeah before it was for them was probably good cuz I'm just like, didn't know anything come in by a log. They probably couldn't sell because I thought it looked pretty right. And then I have a log with tons of knots and holes and stuff in it. Now I'm like, I go and find some real nice solid material and then they're charging me for it. So that's why I've got a little bit more proactive about Craigslist. Yes, I think you would have you asked me before that though about money. Oh, this this is the point I want to make. One thing About chainsaw carving and chainsaw art that I think is super cool as far as being in viable way to make money with art. So if I go to the art store, if I want to buy like anything, you know, paints or you know brushes, or pencils or any art supplies, I will leave with a small bag of stuff and it'll be over $100 easy. I know sawmill by log for that same amount of money, cut it into five chunks and sell each one of the carve them and turn each one of those into you know, four or $500. So that's like, you can do something with that. Whereas I don't know how any artists otherwise would make money because you spend way more money in art supplies than you ever can sell the art for. So I it's actually Yeah, for like it's affordable. But here's the downside. How are you going to move it? Where are you going to put it? Do you have a shop like you kind of have to have a shop now. You know, you're gonna buy it to pay some rent,
Timothy
but also that flip of being able to sell it for for that amount today. Uh, yeah, the market?
Griffon
Yeah, for sure. I mean, I think it's totally, you know, like doable. If you can find if make all those connections and you know, find the place to sell it through and everything. Right now I'm kind of working on trying to decide if I should downsize. It's getting expensive in Austin and I have a shop in the only part of town that's still affordable, but that's about to change. And my landlady is already telling me Okay, here's what you can expect in the next few years. And well, so I'm really interested in maybe having a mobile studio because so many of my shows are live and I spend most of my time loading and unloading my van to get ready to leave my shop. And I told you already I have a hard time getting to my shop sometimes because of the way I am. So I think a mobile shop on a trailer would be pretty sweet. Those are I've seen some amazing setups like that. And just maybe making it the only thing is where I'm gonna put my pile of logs. And then I have like a CNC machine and about like a, like a bandsaw and some other things that aren't a good fit on the
Unknown Speaker
shop tools that Yeah,
Griffon
heavy. Well, there's a group in town I'm thinking about trying to partner with Who they have like a sort of an initiative to do sort of maker space type stuff, and I'm gonna see if I can if I can just join up with them or that the one thing I think is kind of cool about artists and makers and stuff. Now as I think, as the cities that are drawing that kind of thing, are getting more expensive and you can't really afford your own studio space or whatever it there's lots of ways to like, team up with a group and share resources. Instead, the collaboration in the communities.
Yeah, and I think that's the cool thing about that, too, is you kind of inspire each other. And you have helped save money on resources and stuff so you can see stay going but also you make more of a scene, like a lot of little places in Austin, it started off as a few artists or like whatever, and they start to team up share ranch share resources, but then they make this like little hub, too. So I think there's something to be said for that. That's really and I think it's good for artists, and freelancers and people that are not going to a nine to five office with people around that they're interacting with. It's like you can get real lonely sometimes because it is very solo to go off and Create, right and I think we do need a lot of times we need to go off and be solid to create to focus. But then you still have to like feed yourself inspiration and and i don't know it's camaraderie and connection and just feeling like I don't know what happiness whatever it is we humans need each other totally
Timothy
totally I think Austin seems like a great city in that sense it's open to to that I don't know of maybe more than any anywhere else but it just always seems like they're they appreciate things that are a little strange and we keep Austin weird things like that. So it seems like you may be able to find groups like that easier there.
Griffon
He Yeah, though the weirdness of Austin is getting it's not it's getting over laws. Well, I mean, just, I mean, I've seen it just driving around here. You know, like, I was taking somebody home after the meeting I just went to and he was pointing out all the mixed use condo developments. He's like, this neighborhoods gone and like, it's pretty in the you've got all these cute little things and but Austin's turning into that too. It's like one big long stretch of and it's cool. I'm the wrong person to ask because I'm kind of antsy and ready to go somewhere else seen him in Austin's great, and here's what here's the thing I'm going to say about awesome that I think is super positive like, okay, so the weirdness might be going away a little bit and getting a little hip and it's still weird but a weird in a way that's not so individual anymore. Right. And you know what I'm talking about it's happening to Portland too, you know, but Austin has this entrepreneurial ism spirit. And there has been it's been like that when I moved there in like 2002 from the beginning, like, people automatically Buy Local it's like it would take them effort to think go to Walmart, and I don't even know where I Walmart would be around there, you know, so I don't see them everywhere. You know, like, it's a lot of chains that we know now around like America like Alamo Drafthouse or whatever it came from Austin because it was a place that really encourages entrepreneurs, startups, weird little places to like, do their own thing. And in Austin still is even in with this whole rush of you know, Hips rising and condo rising the city. And I'm not down to hipsters. I do love style, you know. But anyway, like, there's a lot of places that are independent and people automatically go and support them. And that that's really cool.
Timothy
That's good. Yeah. I've always had a great time there. You know, one thing I've never been to South by Southwest, which I don't know if you're involved with that, but it seems like I need to experience Austin in that sense, which I know is maybe not real, what Lawson's really like, but it just seems like it's a lot of the collaboration and the connections that people make. It just sounds like an amazing event that I need to need to attend at some point.
Griffon
Yeah, I mean, if you're gonna visit Austin, I think that's a really good time to visit it. And it's so funny because you say it's not what Austin about is about, but it it is essentially we rent our city out to strangers, but it is what it's about because the city is about events. You know, like, we have south by but you have ACL and you've got all these other ones. It's I feel like every weekend I'm stuck in traffic I wasn't expecting because there's another event like a bike rally or whatever, you know, like Austin stuff an event town. So in south by is the big one, I think it's a great time to visit perfect weather Usually, it's different than I think it used to be more about finding signing new talent and music, but now it's a three part, you know, interactive, which is, you know, online technology based all that stuff, and usually great speakers and panelists talking about technology and everything. And then you have film. So there's a lot of like great film screenings. First time screenings happen in Austin, usually through the draft house. And then music for still the big one. And that this shift that I've seen is that he used to be like I said, more about finding and promoting or discovering signing new talent and bands. Now it's a lot more. There's lots and lots of money in the advertising. They have all these big activations and things for TV series and shows and companies and whatever. So it's, and they bring in already established talent. So like you go to South Bay, you'll see all these like crazy bands and musicians and whatever that you they'll all be there at once. So it's bigger You're starting off at a higher level than just like a bunch of grungy bands coming out of their garages and like, you know, it's not so it's different in that sense, but it's still a great party and definitely worth going to
Timothy
know. Um, someday I'll get there. Yeah, well, you can crash on my couch. Thank you if you're still there. Right. Um, so yeah, before we kind of wrap up, I want to just hear more about what you're up to what's next for you? Maybe new travels, you know, what's, what's on Griffin's plate for the rest of the year?
Griffon
Oh, well, the next step big thing that I have coming up is in June, that competition Chatwin's. So, it's most of the chance of carving world that's invitation by invitation. So if you see people at these events, usually because they were invited specifically, there are a few you can apply for and that's where you kind of get to know the community. But for the most part, it's like, yeah, it's like invitation only so Chatwin's. I got invited this in November, I got the invitation. I was like, so thrilled because it's kind of a big,
Unknown Speaker
big deal.
Timothy
Great. Congratulations. Thank you. Have you been in before?
Griffon
No, I've actually never been Haven't been I grew up in Oregon. I've never even been in British Columbia, but it's not like anywhere near Vancouver. It's like 12 hours north of Vancouver. Okay, because most chainsaw carving events are like not like the ASIC cups not in Tokyo. You know, it's like, in Chico, you know, it's like always like a sort of a more rural type area, typically. Right? So that's coming up, and I'm excited about that. It's the first time that's the first competition I've been in that they allow an assistant. Okay, so and it's kind of to like, run, run interference between you and the crowd. Because every time somebody wants to ask you a question or flag you down, you have to take all your gear off and it slows you down. And then also to do a little light sanding and some finishing work at the end. So they kind of really in the one thing I am interested in attending Chatwin. A lot of times chainsaw carving festivals, or events or competitions, are very pro wildlife carving, and everything's about wildlife. Right? And even if you carve something different, you're getting judged by people who really love wildlife. So they want it doesn't matter what interesting thing you did, the guy with the eagle next to you is going to win right okay. So but challenge is one of the few places that's like pretty contemporary. And the artists they bring in are no joke. And they're usually like the ones this year, especially that I'm competing against. I was really happy to see him like, Yes, I got a carver with Oh shit, I'm carving
Unknown Speaker
out a retirement. Oh fuck, he's like,
Timothy
I'm screwed. I yeah, that's it, but I want to see what they do.
Griffon
Oh yeah, for sure. So I'm excited that I'm going to be really inspired, I'm sure by all the people that I'm competing against also, probably swearing under my breath, about example. But I get to do something weird. And I know that it's gonna be maybe, well, I might have a chance with something weird, right? That I want to do. Right. And I don't have to, like put a squirrel on it to be considered. You know, you might. Yeah.
Timothy
That's, uh, yeah, it's interesting that he said, that'd be I think, like, you go into the Bass Pro Shops and things like that. And it's like, tons of carvings. That's what you said. Like you said earlier, that's what you typically see. But yeah, but somebody has a little more of a contemporary modern.
Griffon
Yeah, sometimes stranger. And yeah, so that's why I'm looking forward to chat when for sure. I'm also terrified and I really need to sit down and focus Otherwise, there's some international trips. I'm all but confirmed to go carbon France this year that I'm still waiting to get the final confirmation. And then there's two German trips after that, hanging out with some of those amazing German speak Carver's, okay. And I'm really excited about that. So sometimes that those trips that are in Germany that are coming up aren't competitions, and then probably not even a lot of money in them. But professional development for me is going to be great because whenever I hang out with those Germans, I learn a lot. And they're so fast like you really can't beat them, like the stuff I saw at the Husky cup, full picnic tables with sculpted benches and like sculpted bass have a table like they done in three hours, right? Like Can you imagine putting together not just a picnic table with benches, but when it actually was sculpt like custom sculpture, paint and everything in three hours? Well, like how is that possible?
Timothy
And you're just picking up techniques, all these things just from
Griffon
Yeah, I mean, I already learned some intro like just like as far as chainsaw chain. So when you're carving Having a carving it's usually up on its end. So you're making, you know, you're ripping it, you're almost all of your cuts when you're chainsaw carving or you're ripping, okay? And then occasionally you'll cross cut by, like, you know, cutting off something you're ripping at the very bottom, you know, so but but the chain you buy in your store is almost always for cross cutting at that angle. It's like 3030 degrees, right? But for chainsaw carving, I really the most of those Germans for doing speed carving, they have like, ripping chain on their chain sauce. So it's just like a shorter degree, it's like 10 degrees or something, it's like at a different angle on the chain that makes it easier to cut through at that the length of the log instead of across it. So I'm like, Oh, that makes so much sense. You've been using a cross cut the whole time. Yeah, most covers here, like in the US. I mean, we're just using What's up, you know? Well, yes, it's still for the, for the carving bars, you have a special chance quarter pitch chain, it's smaller, you know, it's finer. So some of that detail you're seeing in those chains that carvings comes from using finer chain on finer bars. You know, that little narrow point. Um, but yeah, so I've got talking I got my SOP and I got my chain guy now Okay, and he's he's sourcing all this the sourcing ripping chain for me now we're gonna set you up. Yeah, so like I'm learning all these little tricks and then another thing I learned there, I'm because I'm like, I can't some some saws are just too much for me to handle for very long, you know, like a 660. And Ms. 662 steel makes it like super heavy, big heavy duty saw. If I'm in an event where they don't allow drop starting, so like, what and honestly, since I'm sort of representing steel, I shouldn't be dropped, started doing
Timothy
it and starting it. So yeah,
Griffon
it's like where you're holding it and you kind of let the weight of the sod drop down while you kind of hold the cord. Okay, so then you don't you can use the way to the PSA to help you start this out without wearing your arms out. Right. So sometimes on these bigger size, I have a really hard time starting them with my arms. Okay. And you can start from the ground which I find almost impossible for me and that's the
Timothy
ground is with the but you want to put it all and then pull it.
Griffon
Yes. And so I was in Australia, Australia. So in the US we're very, very lacs about chainsaw use. You don't have to have a license for it, or anything you can just start right commercially, but in Australia, you have to have a license especially if you're gonna do anything commercial with a chainsaw anything England, so you have to have a license for it So, and that's at the Australian chainsaw carving competition. They had a safety officer in there too, who's especially trained in chainsaw safety, watching everything we do, and if anyone does anything wrong, they could be disqualified, the men can be shut down. So that's high pressure to be doing everything right. And I was a little bit late to the to the saw pickup where we all picked ourselves. And the only thing left that was any size was like a 616. And I couldn't get it started with a drop starting. So I didn't end but I didn't want to go and ask one of the guys because I'd already had been hassled about being a girl by one of them. I Canadian It was one of the Australians gave me a little hassle. I was too embarrassed to get a guy to start my chainsaw for me. And it's so against everything I'm trying to put out there, right. And there was a crowd watching and I just couldn't do it. So I did all of my blocking out this massive log with a tiny little 12 inch carving bar and it looks like probably like a bigger idiot doing that than anything. But I couldn't get a guy to start my saw for me. Right? Right. What was the point of that? Yeah, we were talking
Timothy
about the chainsaw, we're talking about you were talking about kind of what you're up to. And we ended up like going into, like the picture getting in the types of
Griffon
chainsaws. Right? Okay, so here's getting back to that. 660. And I was in Germany and I'm up against the 660 again, but I have a place I can go and hide and started, okay. And there's no one watching, okay, like, I find I can use this as 60. Right. And so, but I didn't really want to do it. But then before the show, I was talking to one of the German speakers, Sebastian, he's like the champion. He's like, no, it's great. He's like, you're putting all this energy into pushing this small, lightweight saw that you think is lighter and easier for you. You're putting you're using all your strength to drive it down. He's like, take the 660 if you can throw it up on top of the log, it'll drag itself down. All you have to do is guide it. So I did that. I'm like, Oh my god, it's so much faster. This heavy saw, just throw it at the top of the log. It pulls itself all the way down. You're just guiding the process. It actually is way. It saves way more energy and strength. I really did not do myself any favors at all in Australia. By being too good,
because I could have gotten through it so much faster and save so much energy.
Timothy
Do you have a 660 at home?
Griffon
No, but that's my next one I want to get but they're kind of expensive. Okay, so I gotta figure that out. You might know some people
Timothy
I might I might know a few people tell me Well, thank you. I know that you document all this on your travels and your work on Instagram and where else can people connect with you?
Griffon
Oh, right. So I suppose what you can search for the most part, my name Griffin Ramsey, gra FF o n. Just throwing that out. So Griffin Ramsey on Instagram on Twitter, Facebook, it's you can search me I have a public and a personal profile and I posts kind of on both simultaneously. So both of those work on Tumblr, mostly that's just Instagram fed to Tumblr, and also YouTube. Oh, yes, YouTube. I always find it so funny. I put YouTube videos out but then I also put those videos on Facebook and then I usually do a one minute version for Instagram. I would say the place I'm the most active at the moment is Instagram, okay, but you can reach me Alice
Timothy
Griffin, thank you so much for for being here. And good luck with everything this year. Thanks. I see you again.
Thanks for listening to talk rave. If you like the show, please rate and review us on Apple podcast or wherever you're listening. Follow along with us for guest updates on Instagram, Twitter and Facebook at tool crib. And feel free to email us at podcast at tool crib comm for guest suggestions or just to say Hi, thanks again and see you soon.
Transcribed by https://otter.ai