I had the pleasure of meeting Alex and his wife Wendy at the Lowe's Vine event in NYC last year. They are the founders of the site, Old Town Home, and are based in the "Old Town" historic district in Alexandria, VA which is just over the Potomac River from Washington, DC.
Alex is a 37 year old Cleveland native and avid DIYer, software developer, and historic home and building enthusiast. Wendy is his high school sweetheart and DIY partner in crime. In 2003, just a few months after their wedding, they purchased a 15 foot wide 1880's Victorian Row House, and started renovating. Literally 30 minutes after they signed the paperwork and got the keys, they were working on the house. Since then, accompanied by their dog, Lulu, and cat, Mel, they've been working on one project after another and have never looked back.
Tell us a bit more about your blog, Old Town Home?
We began blogging in April 2011 when we started oldtownhome.com after friends and family kept telling us we should share our journey, tips, and tricks online. Old Town Home is a blog dedicated to chronicling our successes and failures as we work to completely renovate and restore our 1880's Victorian row house almost entirely on our own. Oldtownhome.com provides renovation tips and tutorials, decorating advice, and a glimpse into the ups and downs of a DIY renovation spanning more than a decade.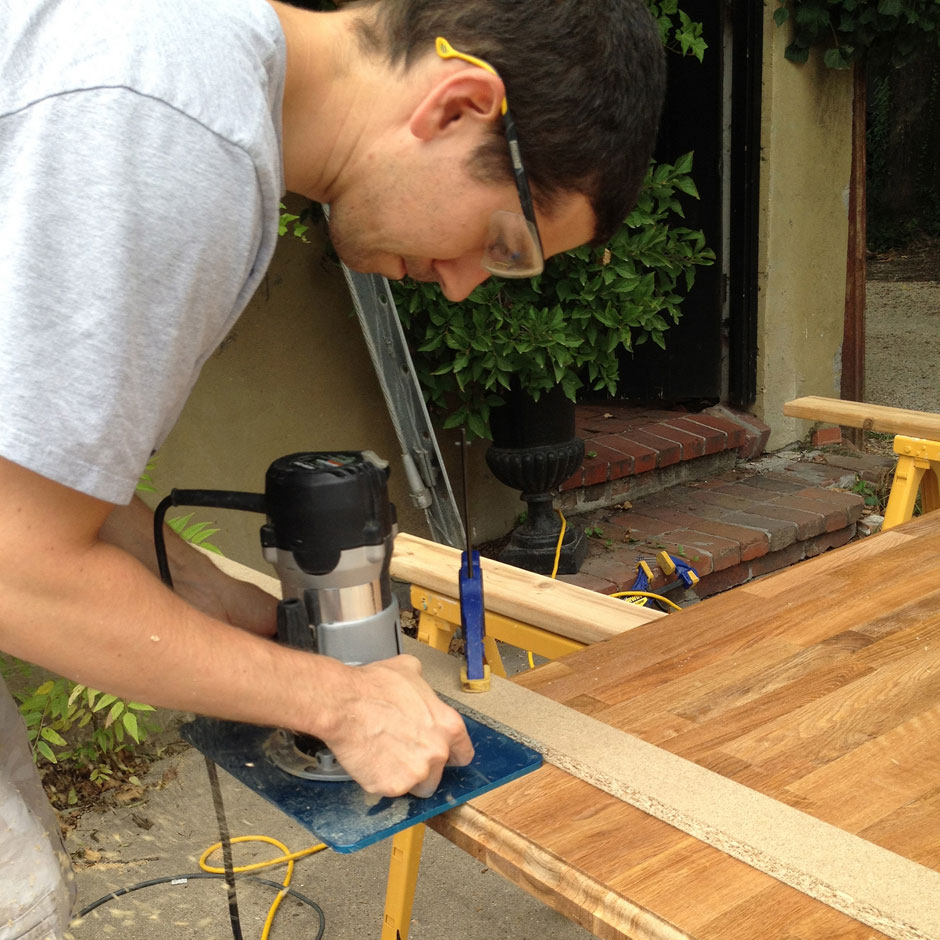 Who introduced you to making and building things?
I've actually been interested in building things or taking things apart for as long as I can remember. Whether I was doing old school Lego work, or assembling an erector set device of some sort, I've just always had this innate interest in how things work and are put together.
Personally, I feel the ability to make and build all comes down to confidence in your ability to do something, as well as your interest to learn new skills and reason through challenges. I can't really narrow down my introduction to just one person, but I think it was a slow introduction by various people throughout my life. My father and stepfather both certainly got me started by inviting me to participate when they were building a shed or restoring a car, which helped me learn to figure things out from an early age. I've always been one of those people who immediately took my toys apart to see how they worked, and my parents would help unstick me when I hit a roadblock in the midst of reassembly.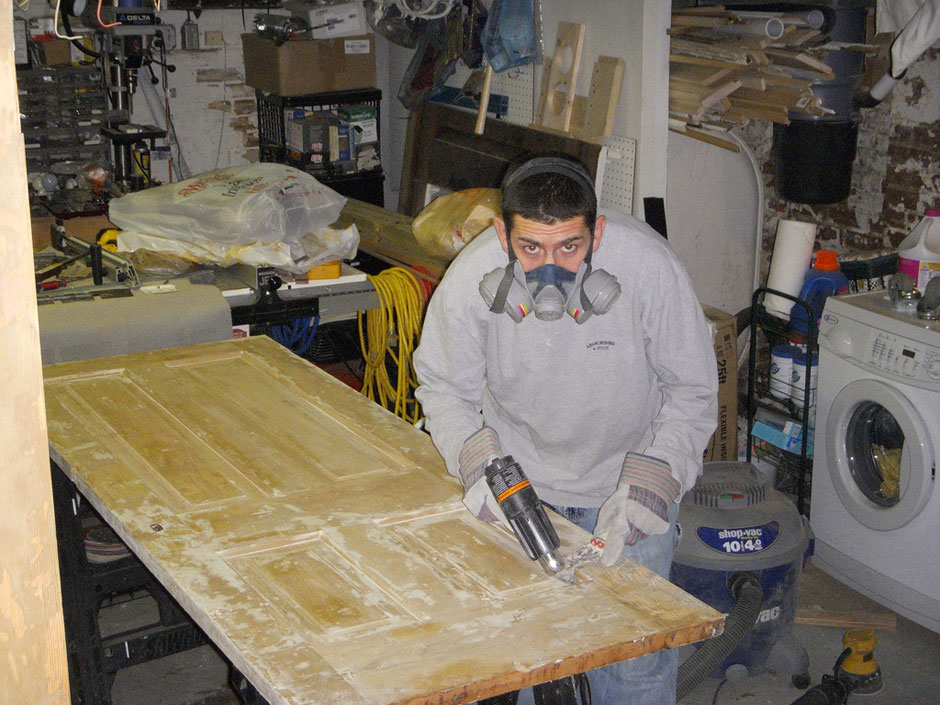 Beyond my parents, I think I have to give a lot of credit to two jobs I had while in college. The first was for a construction outfit in Cleveland that specialized in window restoration. This job, though torturous manual labor that made me ready for bed by about 4:00 every afternoon, helped me to form an appreciation for historic construction and the coveted wavy antique glass I love to this day. And the second construction job I had working for my boss by the name of Tom Kofron, who is a GC in Cleveland, really taught me the basic skills I've needed as a homeowner. He is a master plumber, carpenter, and electrician, and taught me more that summer working for him than I realized at the time. He told me early on in my employment, "I'm going to show you stuff, and as long as you can show me that you can learn and retain what I show you, I'll keep showing you more stuff. You'll thank me when you have a house of your own." As a dumb teenager I really didn't appreciate what I was learning, but I appreciate his lessons more now than I ever thought possible. What I learned while working for him have ultimately been the building blocks for every project I've taken on since we purchased our home and started tearing it apart like I did my toys as a kid.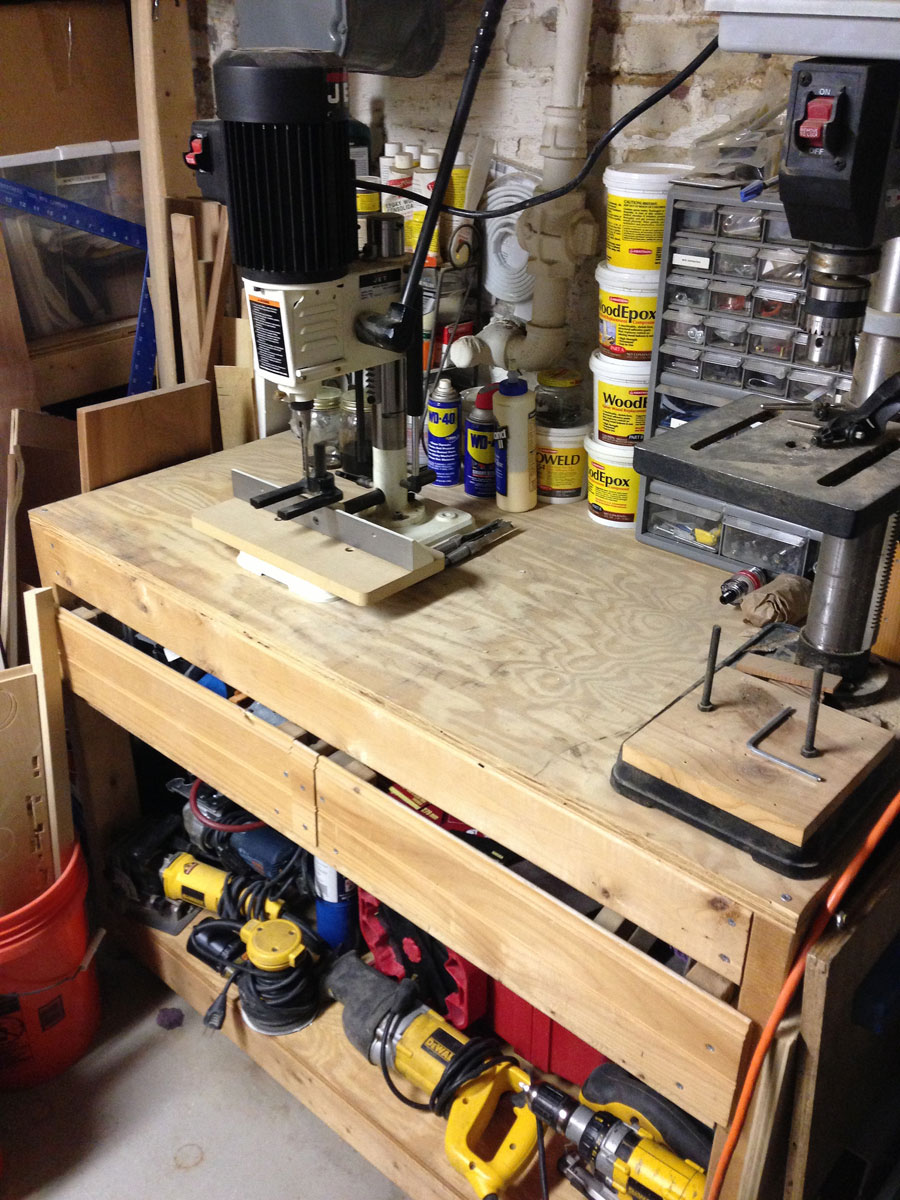 What feature of your workshop do you love the most?
I have a real love/hate relationship with my workshop. Yet for all of the things I dislike about my workshop (tight space, low ceilings, sloped floor, and sharing the space with my home's laundry/utility/storage area), I love that it's in the basement of our nearly 130 year old house. I know it's barely functional, makes a mess of my nearby washer and dryer, and our house is too narrow at 15 feet wide to allow me to turn long lengths of lumber around without walking it outside, turning it, and then bringing it back inside, but looking up at the exposed floor joists in a home built in the 1880s gives me a lot of inspiration and enjoyment. I like to think about the people who worked to put this house together and the tools and techniques they used. I also like to consider what they'd likely say if they found some owner of the house working in the cramped basement and using it as a woodshop. I have dreams of one day having a shop that's more like that of Norm's New Yankee Workshop, but until that day, I'll happily toil away in my cramped unfinished basement and curse the shortcomings while loving it at the same time.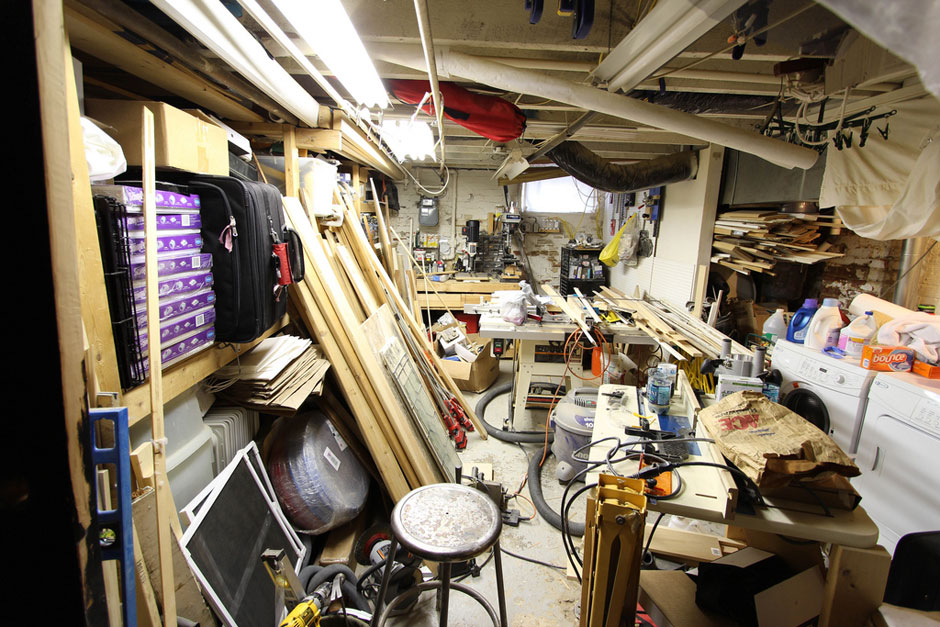 What tool(s) always stay in your toolbox and never go in storage? Why?
Boy, there are a ton of tools that fit in this category. I've actually been having a really hard time lately because I have to keep taking tools between two projects, and have several large and very heavy buckets of tools I keep lugging from site to site because I can't pick just what I need. However, I'd say the top three contenders are my:
NailJack Nail Pullers
Fluke Voltage Tester
10 Gallon Shop-Vac
These three tools I use EVERYWHERE! The NailJack nail pullers are the first nail puller I've used that never damages the finished face of the surface I'm working on. I do a lot of demo work that's delicate, such as keeping historic molding intact while removing it, so these nail pullers have made my life much easier and my projects much cleaner.
Speaking of demo, the Voltage Tester lets me quickly identify if a wire I might come across is live or not. I have this nearby during most phases of a project. Whether I'm looking for confirmation that I've cut power, or just trying to determine what a wire is doing behind a wall, the voltage tester helps me with that.
And finally, I don't think I'd be married any longer if I didn't have my Shop-Vac. Now that I've set it up using a HEPA filter and drywall filter bags, along with an intermediate 5 gallon bucket with cyclone lid, I can keep the mess better contained in the worst of situations. It doesn't matter what phase of a project I'm in, the Shop-Vac is always nearby and always ready to help.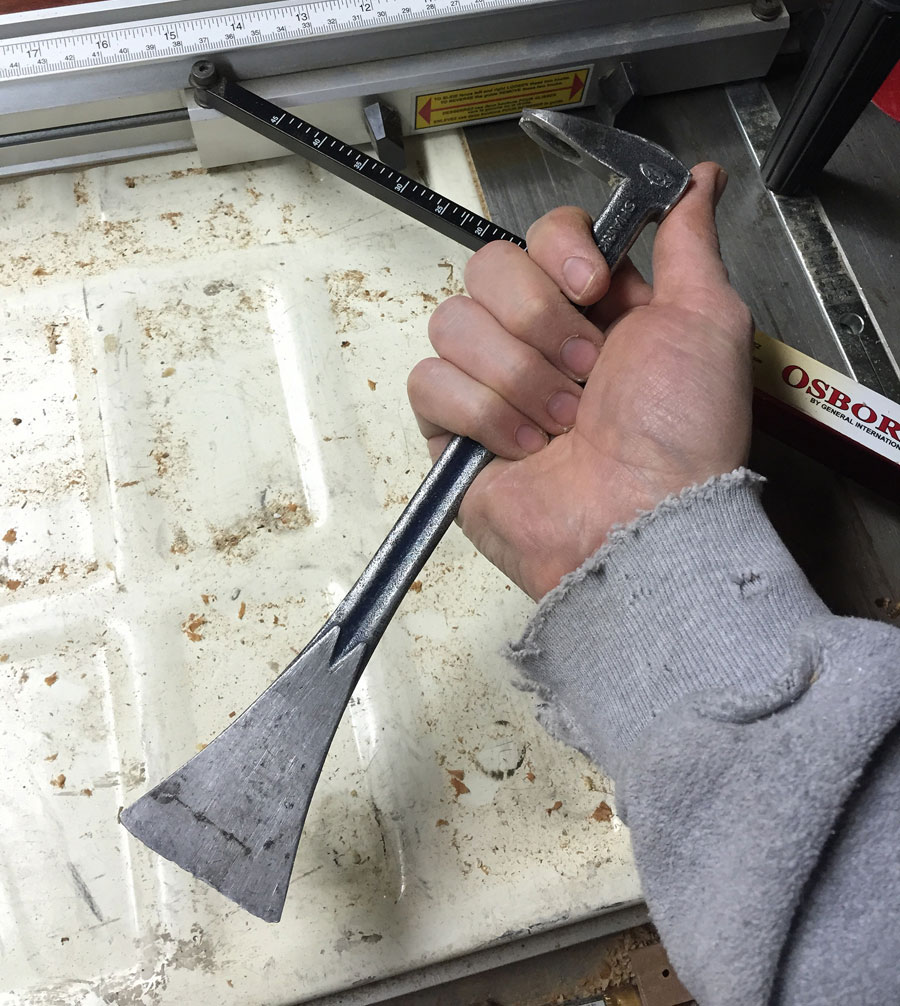 In a fire, what tool(s) would you save above all others? Why?
I have to say, I've given this question a lot of thought, and it comes down to two tools.
First, I'd grab my small pry bar from my tool bucket, but this is totally a sentimental choice. This dinged up, damaged, dull, and dirty tool is sort of the tool that launched our renovations. My wife gave me this prybar as a Christmas gift just before we settled on our house and it's been by my side ever since. It was the first tool we used on the first day we owned the house, and it's one of those tools that I'm always grabbing for no matter what phase of a project I'm in. It's even gotten to the point where I bought a second of this same prybar that's newer and sharper, but I keep this one in my tool bucket at all times. I guess I sort of see it as my good luck charm and a link to all of the work we've done.
Second, I'd grab my Jet table saw. Yes, the whole 350 pound massive table saw with accessories and my various blades, including the dado. I'd grab this because it's a ridiculously useful tool that has helped me build the things I'm most proud of. And if I could put something that massive on my back and walk it out of my cramped basement I'd look like Magnus Ver Magnusson in a strong man competition. It's really a win win.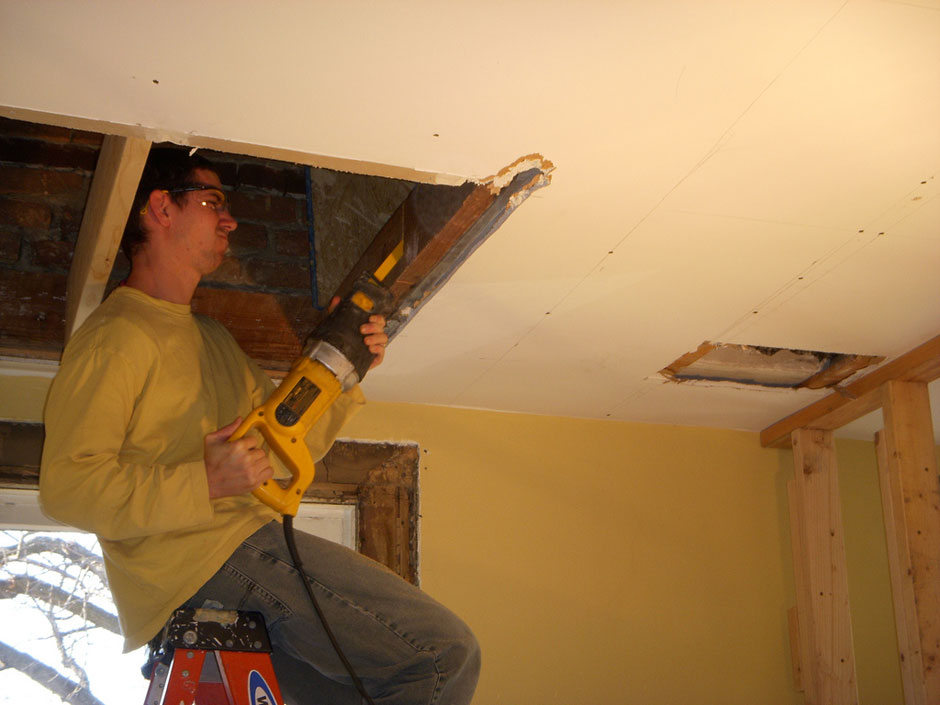 What do you enjoy building the most?
I really enjoy aspects of many different types of projects. I like the planning and execution that goes into electrical and plumbing work, and the detail that goes into finish carpentry. But at heart I'm a true nerd, and I love building things that integrate technology with classic approaches to woodworking. I had the most fun building my office desk out of solid cherry and using dovetail joinery, while integrating pressure sensitive lighting, lighted fans for air circulation, hidden wire tracks, an outlet in the back of the main drawer, and structured wiring. The desk even has blue LED lights that automatically illuminate when you open the side access panel to reach the rear of the integrated Mac Mini. Can you tell that I'm a bit of a geek for this project? It incorporates all of my office technology inside while maintaining a traditional look outside, based on a 19th century bookcase in the office that inspired the design.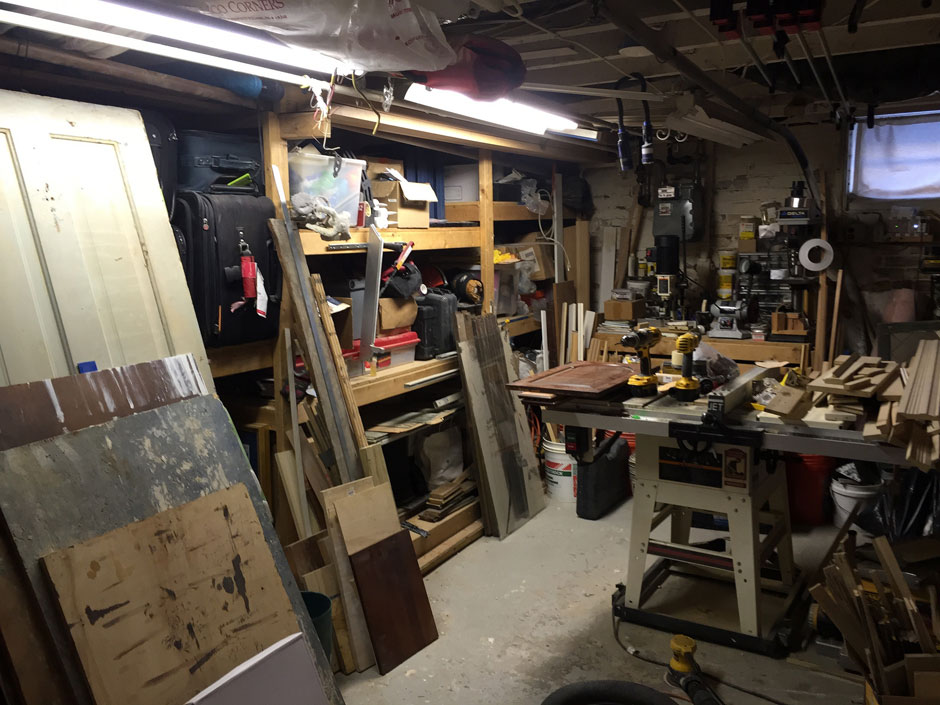 What tool do you covet that you currently do not have?
I have two that I'm really interested in right now, and being totally honest, both are oddly driven by a healthy dose of irrational fear. First, I see a lot of plumbing work in my future and I was recently introduced to the Rigid ProPress copper to copper solderless crimping tool. I've always done my plumbing solder work the old fashioned way with flux, flint, torch, and solder, but I fear I'll eventually end up causing a massive fire. The ProPress would allow me to dry fit all of my work, and then work in tight spaces without fear of igniting my surrounding work area. Best of all, no need to mess with white bread to keep water away from fittings, or to worry about melting the sensitive pieces of a valve assembly near a joint. The fittings may be more expensive, but the speed at which you can work more than makes up for the cost.
The second is the SawStop contractor saw I've been perusing of late. I have a serious, bordering on irrational fear of one day sticking my hand in my table saw and losing a digit or two. I don't know why, but it's always been one of those things I can't get over, no matter how many hundreds of times I've used the saw that I'm as comfortable with as any other of my tools. But I guess you could say I have a healthy level of respect for it that results in my fear. The allure of the SawStop is the simple fact that a momentary lapse in concentration might end with a small cut on my hand rather than a wandering finger. Since I'm a software developer when I'm not freaking out about using my table saw, it'd probably be in my best interest to keep all of my fingers intact for as long as possible.
Thanks Alex!