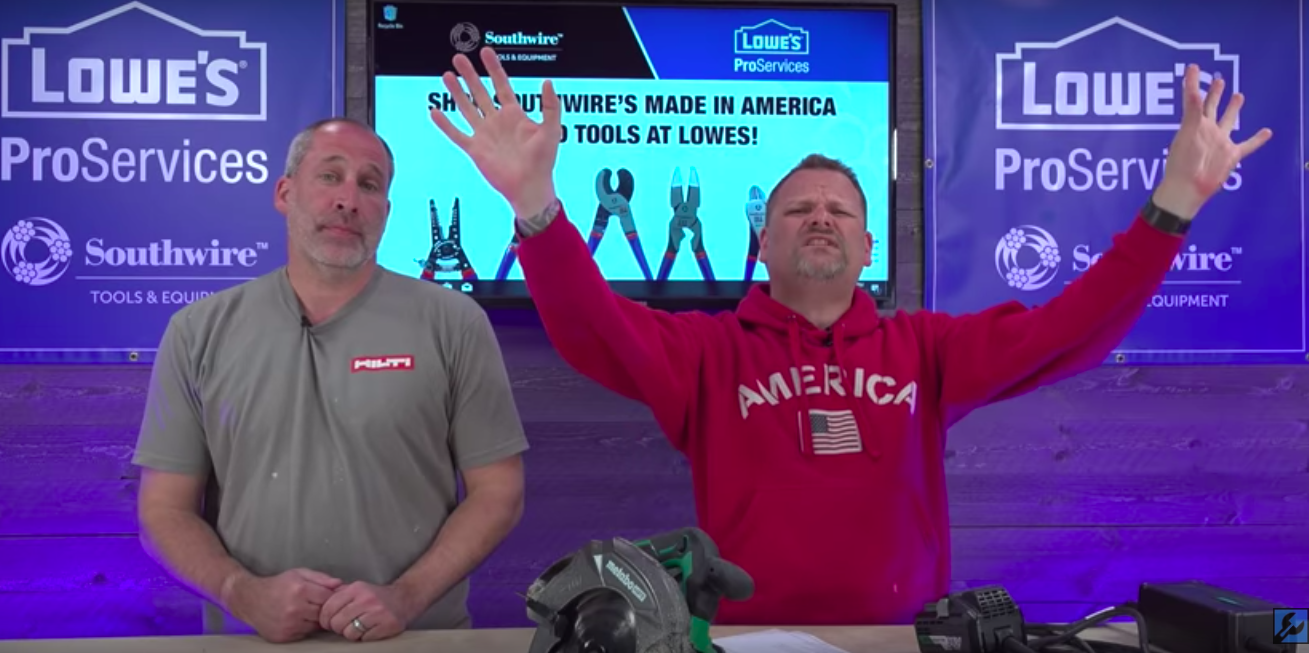 Today I chatted with the duo behind Tools in Action, Dan Maxey and Eric Jopp. These two have been talking about tools for years, and have built a huge following with their entertaining YouTube videos and social media posts #TIACrew.
I caught up with Dan and Eric in the midst of their new shop build, and get the scoop on what's in store for Tools in Action this year and a surprising pick for one of their favorite tools. I had a lot of fun with this podcast, despite their pranks.
ToolsInAction.com
YouTube
Facebook
Instagram
Read the full transcript of this episode.
Timothy
Welcome to tool crave a podcast where I chat with the best and brightest makers to gain insights on how they make and discover which tools they really use and which tools they covet.
I'm Timothy Dahl, the founder of Charles and Hudson media and former editor at problem mechanics life hacker and this old house. Today I chat with the duo behind tools in action. Dan, Maxie and Eric job. These two have been talking about tools for years, and they build a huge following with their entertaining YouTube videos and social media posts. Hashtag Tia crew, I caught up with Dan and Eric in the midst of their new shop bill. And I got the scoop on what's in store for tools and action this year. And it's surprising pick one of their favorite tools. I also had a lot of fun with this podcast despite their pranks.
Dan Eric tools in action. Thanks for coming on the podcast.
Hear Me? Yes
that's a great start.
Unknown Speaker
Oh, yeah.
Timothy
It was an action. Thank you. That was it. That was the best intro so far.
Eric
How can we mess with
Dan
Tim? A little bit? I'm like no, it
Timothy
will just we spent 15 minutes trying to sort out audio and everything and now Yeah, I thought everything got messed up again so it was good it is tools and now that you've kind of brought us into your world is really like your hardest podcast ever. Everything that can go wrong will go wrong right I'm a tools in inaction. That's it. Yeah. Okay. But yeah, thank you guys so much. Because a couple of my favorite tool bloggers or peers, and you know, I really look up to what you guys have always done. And I was kind of looking back on when we first minute that Craftsman thing which was, I don't know was it eight, nine years ago, man that was over years ago, many, many years ago love it.
Unknown Speaker
Yeah.
Timothy
Yeah. And I know, maybe I think you guys, I don't even know if you ever on YouTube at that point you were kind of just doing your thing and, and since then it's been awesome to see, you know, you guys take off on YouTube. And what I really love is that you guys, you guys grab whatever platform is out there and you just dive in and go for it. And like, like at the Milwaukee event, you guys had the periscope going and you were doing a live video of all the Milwaukee presentations and, and all that and you know, and then when periscope you're like, that's not our thing, you jump into Instagram or whatever and you just kind of kill it on all these platforms. So So yeah, so for me that's really inspirational and also like how you guys are sharing right now on some of your stories and seeing like, Alright, here's what we're doing on Facebook, you know, and so that's great. You guys are really transparent about that. So it's obvious that you know, you guys have such a big ti a crew happening. So yeah, again, I appreciate guys coming on here and I just want to hear Kind of what you guys have been doing really lately because there's so much happening. It seems like on your end,
Dan
yeah. Yeah. Well, thanks for that man. Yeah, appreciate it, you know, rather see, you know, your great friend us and we've all been in this industry a long time we've seen a lot of changes, you know. And I think that just kind of going back to that the early days is like I don't know if you recall, though. But remember when we used to go to these events, and it was just like, we were kind of the riffraff and there was all guys in suits, and it was the print guys. Right? And now it kind of then it kind of evolved into us. And then now it's kind of evolving into a whole new crowd like the instagramers and stuff like that. So it's like going back to that periscope thing. Yeah, Periscope was great. It was happening, but man, it just, it came and went, you know, with changes and it's just like, we feel like you just kind of have to follow your platform, you know, your followers or whatever platform they're using. So I feel like that's why we kind of, you know, so over here like making one of these. Well, that's why we kind of, you know, dive into a lot of platforms and Just try to, you know, make the best of whatever we can but, but lately man, we've got a shop I don't know if you've been following but we have this new shop now. So we got a built in studio, we got a wood shop in there right now we're just currently putting the finishing touches on the mechanics part of it, we have an automotive shop, we got a lift that's actually waiting to be installed. So yeah, we're just kind of just, you know, just trying to get you know, more content, more tools and just kind of get out there, you know,
Timothy
right. I mean, for years, you guys have been working out of your garage, which has been, I feel like that's my garage now because I just see it, you know, I see it so much. I see all the tools come in and out. I see you bring in, you know, the jeeps and all the fun stuff that you're doing there and, and also another thing too you guys kind of share it's not just like simply tool reviews. It's like an insight into kind of, you know your life and I'm kind of drawn in and I feel like even if you know I wasn't friends with you, I didn't know you just from tools and action. I'm still kind of drawn into you know when you guys go to breakfast when you do go to the carwash, whatever,
Eric
you know, it's fine. I love it.
Dan
That's crazy. I mean, I'm just shocked by how they just show off, you know, my day my daily duties. So does Eric, you know, and I mean, it's kind of fun, like you said, and that's what we're trying to do is we're trying to just get people in on the story, you know, we're not just this publication just pumping out tool content. We're also you know, hey, these two guys actually do sometimes fun things. I mean, obviously, it was
Eric
fun to connect with the users. Yeah, get their feedback talk with them. You start learning about people are following you, too. So I think that's just the whole community thing's gonna last
Timothy
right so can you guys take it back a little bit? Like how did you guys meet up? Are you guys you know, tell me how you guys became you guys friends before this. It was just Yeah.
Eric
Well, was it court? Yeah, it was court for a DUI that we both got.
No, now we can actually work. So we went to the same grade school. We live maybe about six blocks away from seven blocks away. We met at school and we actually used to play like guitar on it. So we'd walk back and forth each other's house and just kind of sit there and hang out. Just kind of went from there. Then 2005 we kind of put this thing together there was not much out there in terms of a like, websites or anything like that and tools. So they came together. It was in 2008. YouTube came along we'll start putting content out for that 2000 times when we kind of got together on this project work together and kind of just rocketed from there, I guess.
Timothy
Right? And for both you guys this your full time gig.
Dan
It is yes. Yeah.
Timothy
Right. That's awesome. And how to so how's it progressed into you know, having this shop now and having to lift I mean, that's pretty big time in the shop looks amazing. You guys have done so much. So quickly. I know Eric, too. You've just been in the middle of you know, remodeling whole your whole house and now you're kind of building out the shop. How's that? How's that happening?
Eric
It is I think we're still trying to find a replacement. shot, we got it. We needed the extra room, which was nice and all that. But it's been a little bit longer than we thought trying to get this whole thing together because we want it. Because we do so many different things. You know, it might be like, one day we're doing the rock show that Dan has one day we're doing some blood work another day we're doing canopy. And we're just trying to figure out how to fit it all in together where we can make it all kind of work. Right. Right.
Dan
And I think, you know, the slowdown right now is is that, like you said, we did start graduates, right. So Eric's got all his tools set up. And this guy's I have a mindset of my garage. And just since this whole shop thing, it's like, because we've just got in, you know, just tons of this stuff everywhere. And it's like, if I'm at the shop, working on something, I might not have the tool I need there. So we're just trying to consolidate all our tools do and get them into that one location. So we can, you know, basically spend the whole day there without having to run out and go buy a tool or, you know, run back to the house to get this or that. So, I mean, just yeah, you know, a lot of people think that like, Oh, that's easy. You got a shot. Now you can just move there and it's like, oh my gosh, it's so because we're really Still working from home and working in a shop?
Eric
Yeah, I mean, it's hard because like when we were in the graduate, the audio and video, everything we wanted, we knew the labor neural stuff now with the shop, we started having problems because we had too much echoing so then we had to try to fix that, then we didn't have the lighting the way we wanted to try to fix that. So it's been a little bit of learning curve, but yeah,
Dan
but I mean, the content. Yeah, the content is getting better. We got more new cameras now we got 4k. I mean, it's, you know, it's definitely getting a lot better, but I think it's still, you know, this whole year, it's just, it's rough, it's a rough start to get in there. But I mean, obviously, with a shop and stuff, you gotta have that, you know, start producing content. That's the whole you know, investment phase of it is to get content out of it. So we're there but we're like not finalized yet.
Timothy
Few weeks will be good, right, right. I know these things take time and it's a pretty big, you know, a pretty big thing you guys are taking on and like you said you were in your garages for years. So it's got to be got to be kind of satisfying to kind of go through and just call some of this stuff and And clear out and kind of start fresh and put everything in the right place, you kind of know, okay, it's all gonna be at the shop, I know everything where it's gonna be. So and also you guys are creating content as you're doing all this. So it doesn't even seem like there's been a letdown. It's been like, still more and obviously with your studio, it's gonna be exciting to see everything you know, for YouTube, everything you do in there.
Dan
Yeah, thanks, man. We appreciate it. And yeah, like you said, I mean, we're trying to, you know, obviously, the easiest way to push out content is Instagram. So we've kind of just been, like, relying on that to do it, but we definitely, you know, are focusing back on the YouTube, you know, cuz that's a core audience right there. You know, I mean, that's pretty much how we started and then we had the floor and we still have the forum and just, you know, just that's the crew, you know, at the end of the day, you just want to make sure that you're there for the crew that you're, you know, giving them quality content. I you know, I don't want people I want people to come in and like watching tools and actually, you know, be there all day. So I mean, that's why I think that this whole shop thing is just an awesome idea. What do you Err,
Eric
agree 100% man, yeah,
Dan
Eric likes it because he's got a place to hang out now and call his own, he hangs out with all the neighbors and he's only talking about getting smokers and grills. I guess you're gonna sell beef jerky. No, but how cool is that? That's what's cool about this shop is yes, as a business, but b it's also like a big toy garage for us, where we can go hang out, and we can go you know, on weekend watch cars in there or, you know, smoke smoker grills and you know, next doors, body shops and mechanics and just everybody that we can actually get more content from and gain content with, which is pretty cool, too. So,
Timothy
yeah, you guys have kind of created the ultimate man cave. In a sense. Yes. And I'm sure you're probably gonna be the most popular, popular spot on your block
Dan
there. Yeah, it was a cafe.
Actually, there's a lot of cops that hang out down a really safe area is kind of off the beaten path. So we were kind of concerned about that at first, but like every time I go there, there's a capstone Yeah, and they're all cool. They'll just pull up and talk to you say, Hey, what's going on and ask you about what's happening. So yeah, it's
Timothy
very cool. And you so you guys are obviously still in Chicago. Chicago area.
Unknown Speaker
Yes, we are. Yes. Okay.
Timothy
And it's and before we started here you were when I didn't have any audio you were introducing me to somebody there. Is that kind of a new member of your team? What's your team look like? Is it Oh, Amanda here?
Dan
That was James. He got fed up and left. Yeah, he got fed up and left. We're actually barbecue. But all this beat he could have waited around. He left but we'll eat his food. But yeah, so he
Eric
sold we bought a while back. Really nice guy.
Dan
Yeah, he has his own vlog James Mo Vlogs on YouTube. So they started out as RV people and then now he's just got his own kind of
Eric
lifestyle blog and his wife really cool.
Dan
Yeah, just good people to have and he likes to hang out. We're going to Vegas with him next week to the hardware show. So you know, he's just learning the ropes. And you know, we love doing I mean, we love just hanging out with people and just kind of, you know, doing them How to get through and you know, how to be successful. Right. And so it's all about
Timothy
right. And you know, I again, I like that you guys are kind of sharing some of that the insights on especially like, you know, we didn't even talk about Facebook, but how you guys are rocking on that, like, how does that work when you're still focused on YouTube and Instagram? with Facebook? You know, you keep getting that engagement you keep kind of really growing in that. Yeah.
Eric
Yeah, it's definitely a challenge. We've got the website, YouTube, Facebook, Instagram, trying to do a little bit of Pinterest. It's a challenge and just two people trying to knock it all out. But
Dan
yeah, so that's, that's why I hire people. So we got a couple people that were like, kind of looking at right now just to work in the office, one's gonna be content driven, and one's going to be mostly into video editing and stuff like that. And I think that, you know, that's going to be huge for us, because then we're really going to be able to get the content out there cuz you're right, man. It's hard. I mean, our days consist of as soon as you wake up, you know, it's like most people go to work. As soon as I wake up, I'm at work and I'm at work all day. It's like, go to bed. You know, me when I sleep, I was sleeping at one
Unknown Speaker
yet to leave,
Dan
you know, a couple hours a day. But you know what I'm saying? I mean, it's like, that's all. It's just, it's crazy. It's really you have to be disciplined to keep maintain this kind of work and, you know, and it's not easy. I mean, everybody thinks, oh my god, she's so easy, you just makes a video of this and that. But I mean, after a while you start, you know, driving yourself crazy and striving to find better content to do better content, you know, you don't want to post a video because you might have posted that like a year ago, because that was okay. But now it's like, I just want it to be that much better. You know, and I think that's my mental block right now. It's just, you know, trying to find that fine line of, you know, what's gonna be good content and just get it up, you know?
Timothy
So, right. I mean, I know you guys are perfectionist, too, and, you know, put things out that, you know, don't meet your standards. So that's, you know, another thing I think that a lot of people you know, connect with you they know, you're not just throwing up videos, just, you know, rushing it up just to kind of meet the, you know, the requirements of some sort of sponsors. thing you have going on or whatever, it's all just right. It's good stuff and, and you'll even wait to you know, not me maybe the first people to announce it tool, but you'll might have the best quality review out there. So, so that's, you know, that's cool any like you said, I'm sorry like you said to you guys, like you sent to the rise of the Instagram or influencers and all that happening and you know and a lot of those guys too They are focused on one platform and in a sense, you know, they're really, I'd say over indexing on that one but they don't have internet editing videos at night and going through all that whole process so so kudos you guys again on building so much more.
Dan
Yeah, thanks, man. We appreciate it. Plus we have low standards so it's really easy
Timothy
to yes a website and also I mean, I you just mentioned the hardware show and the travel that you guys are doing and how know how hard that is. It takes you away from everything, not only in your home personal life but at work and you're in the middle of videos and then you have to run off to you know, Vegas or whatever. But which I'll see you out there. I'll be out there for I think a day. So
Dan
sweet. I excited. Yeah, yeah,
Eric
definitely. Travel. I mean, cuz we like both of us we both travel so there's nothing here against on sending you come back you're trying to just catch up with that.
Dan
Yeah and I mean traveling is fun and I mean you know it has its purpose obviously you have to meet with people you have to make connections you know, it's definitely got its plus but then again like you said, Yeah, you are away from working and stuff like that. But sometimes it's like, it'll be like we won't shower for like three months with all managed trips gonna sound good. And then we get that chip and it just, we're all excited about it. And then like a week before, like, just something comes up where it's like, oh, man, if we didn't do this trip, we could get so much more done on this other prize, you know what I'm saying? So it's like, it's it's interest. So we're just trying to you know,
Timothy
I don't know minimize travel, I guess you could say but, you know, maximize the benefit of the traveling that we do. Have you seen the travel amp up? I feel like a couple years ago, it was like there's opportunities like almost definitely once a month. Like, you know, yeah, after that, and then it kind of slowed, at least for me. So down a little bit, and I think because I'm not, I haven't been, you know, in it full time with just my stuff, but it just kind of is gone in cycles. And, you know, I'm gonna hit Milwaukee again this year, and they've always been consistent with a great event. But you'll do you guys kind of pick and choose, I'm sure you guys have like, a ton of different opportunities, what makes it you know, where do you say, Okay, this one's this one, I'm gonna go to this one I'm going to take a pass on.
Dan
I mean, we just basically look at, you know, obviously, everybody that invites us sort of that we're flattered. We want to go We would love to attend, you know, but we just have to kind of look at like, audience and stuff like that. And is it worth it? Do you know what I'm saying? Because it does cost us money. You know, I mean, obviously, we were from Chicago just parking in that lives like 100 bucks a day, you know, but it's just we just kind of look at it. It's a traffic is it worthwhile, you know, obviously, something like Milwaukee the waltz Makita big tool, companies like that. Yeah, obviously, our audience is core. We want to report that back to our audience, you know, but if it's something like you know, something super small, like, you know, Joe's hammers or something like that, you know, then we kind of have maybe take a pass on something like that. Joe's hammers. Okay, Sally favors. Yeah, that would be good. But you know what I'm saying? I mean, and I don't mean to feel bad, but it's like, you know, free trips are nice, and they're not really free. But, you know, they usually take care of all the stuff, but it's like, you know, just the time away from work just ends up costing more than it's worth. I feel.
Timothy
Right and because, and you guys both I'm sorry, Eric.
Unknown Speaker
Yeah. Oh, go ahead.
Timothy
I was gonna say because you guys both just pretty much both travel, you know, together to these. So it's, you know, we're making that work as well.
Eric
Well, we do because we're both when we're there focusing on different things, you know, like Dan does a lot of the videos and stuff like that. So he'll be interviewing, I'll be doing the camera. I'm taking pictures for the website. He's doing Instagram. So we're we almost both have to be there in order because like we were talking about earlier with all those platforms in order to cover it.
Dan
Yeah, he My security blanket
Eric
is my security blanket that works out well.
Timothy
That's good to have I so you know going back to your shop where do you see you know what you're going to be doing there as it is expanding on what you're currently doing? Are there going to be new features like how is What can your audience look for from your shop?
Eric
Well, I think it's gonna be shut down in about eight months because we don't
Unknown Speaker
yet have a guide that's open
Dan
now Yeah, well, here's what we want to do with the shop we want to get it to a point where we can actually just have our audience come to the shop whenever they want, you know, it's like hey, you want to come back tools and action come on down you know, you can use tools you can you know, I mean, I don't know how that's gonna work. You know, because obviously we're in Illinois to sue happy state like a
Eric
tribal but people are users the viewers all that Yeah, actually come there so we could meet up so they can try stuff so we could just,
Dan
I don't know like every Friday have a get together with all the contractors in the area. We have a lot of contractors you No, no, no big messages all the time like, Oh, hey, I'm in Chicago, you know, want to come down. So just like every Friday, just have kind of a get together, maybe barbecue, you know, and just talk tools and put it on YouTube. That's something that we're pushing for. You know, I think we're still a few weeks away from that, too. But
Timothy
yeah, event spaces. Yeah, it sounds such a natural type of thing. Especially you don't want to have people really necessarily over to your house. But yeah, now that you have a shop, it's Yeah, seems natural to give people like, you know, the Tia crew first look at new Microsoft from Milwaukee or something like that. It sounds that sounds like you could do so many different things.
Dan
Right. Yeah, exactly. And we get their feedback. You know, thank you, honestly. I mean, we in our current contractors, you know, we do this business full time. So obviously, we're not a contractor, but it's we do take, you know, advice from contractors, we do get their opinions, you know, testimonials, stuff like that. And that's where we base a lot of our, you know, our content, you know, a lot of people like, Oh, it's tour reviews. I mean, we don't really call it tool reviews. We're just two guys integrated Now in a shop that just like to talk tools, you know, we're excited. Yeah, we're consumers. We're excited about tools. You know, Eric likes to call us professional amateurs. But you know, we just have fun talking, and, you know, if you can get a laugh out of our videos, great, you know, and you learn a little about the product, you know, rather than go into, like a boring, you know, drill video where, you know, it looks like he just came out of the manufacturer, you know, or, you know, that kind of stuff is just anti tools and action, I guess you could say,
Timothy
right? I mean, I'm in the same boat as not being in the trades. So, you know, I've always thought, you know, come from the lay person's perspective of the person who's going to go into Home Depot and need to figure out, you know, what should I grab? Is it worth it to pay X amount for one of these contractor grade tools or, or will ever EOB suffice or, you know, Black and Decker or whatever so, so yeah, I mean, that's maybe also why I you know, I connect with you guys so well, too. So, so yeah, I'm not looking for kind of the hardcore, all the stats and all this The things that that whereas it was a DI wire. I don't, I don't necessarily need to pay for that premium. But um, but ya know, that's a, that's, that's something that again, it's great to see. And it's not like you said you give people a reason to laugh and like something little different. So it's fun.
Dan
Yeah, exactly. And I mean, that's, I think what we've been about the whole time, you know, when we try to do be serious or something that really gets bad. So it's like, we just try to be fun and like, you know, my biggest thing is not editing videos, right? I don't like to remove the arms and the you know, the things we say wrong. Yes, man. I mean, if you know and yeah, it's just us, you know, you can't comment we said something wrong, but whatever, you know, I mean, that's off. That's what it's all about tool awareness. So that's tools in action in a nutshell.
Timothy
So let's talk tools then. Is there something I know that with you know, Eric D, redoing your home and you guys work on the shop? Are there some tools that stood out for you guys that you keep you know, You know, maybe you've had him for a few years now and there's a shiny new thing that you could use obviously you have access to but you know, you kind of stick with one or two tools or something that maybe also a little bit underrated that you guys just love.
Dan
Well here I'm gonna say something's underrated. And I mean, I'm probably gonna take a lot of flack for it, but it's the Hercules drill from Harbor Freight. I don't know why the thing is, like 80 bucks, and it is just, you know, it keeps up with like, the high end to $300 Yo, you know, and actually, Eric wants one for the shop, so we can just beat it up. It's just a good little drill, man.
Eric
There is a drill fight. Which we have one in there. And that was a shocker. I think it was what 80 bucks Yeah, drill and two batteries or something. Believe it or not, that thing was? Yeah, just kind of thing back.
Dan
Yeah. And just because it doesn't say Milwaukee or the while the Makita on it, you know, automatically doesn't make it a bad job. You know, I mean, it's just you're saving money. It's a good buy. It's got a certification.
Yeah, I mean, obviously, it's vesting into an entire line I probably wouldn't go Hercules just because of the lack of tools in that line. But, you know, I mean, if you're just looking for a drill that you just want to beat up and you know that things are something worth looking at. It's just it's I like using that actually Hercules from
Timothy
Hercules from Harbor Freight. Are they at 18 volts, I assume?
Dan
Yes. 20s, mid 20s and 1820s. Is that
Timothy
Is there a platform there? I mean, can you think of are there tools? Are they just the drill?
Eric
They're slowly starting to play? Like a hammer drill. I believe they have an impact driver and maybe a wrench right but they don't have time for it.
Timothy
And it's at a harbor is that Harbor Freight? Like they're branded to? I mean, you said it's Hercules by their branded tours that's something out like separate Oh, is there
Dan
Yeah. Yeah. Harbor Freight been totally like
doing like this thing where they just come up with these new brands. Right. And usually they they comment they call it like, cities in the United States. Pittsburgh, you know, Chicago to me right that is the first thing that used a non US city name but that's a
Timothy
good one any other any other standouts?
Eric
I don't know like for the house for me when I was doing my Vegas thing that was really nice is the Milwaukee table saw. Oh my god, Tony, you saw that and the miter saw. And again, I got it the whole house so I only had two outlets that were live one I was using for the fridge the other one I was using for the battery charger. So I was very limited. I am pretty much all cordless. And those two were gigantic to those through so much use. I mean cutting anything from cutting the new two by fours for the studs, to doing some sub flooring with it to doing trim work later on with it. So I've had a range of use. I like that. It's a huge thing,
Timothy
right? I mean, obviously the cordless everything's gone cordless now. So you know when you see the bigger two Like the table size, the miter size on battery only it just seems like it opens up the, you know, options across the board for contractors, so it's really cool to see.
Eric
Huge very huge Yeah, so he wouldn't think that like these high demand tools will be able to be powered by a battery you know, I mean obviously lithium is come a long way over the years but you wouldn't think that you'd go look at that type of power out
Dan
Yeah, I mean I think now everything's battery though I mean if you just look at OPI it's like you know zero turns is starting to embed in five years you know there's gonna be no gas zero turns it's gonna be like outdated except for commercial power.
Timothy
Right right and you yeah for you guys to do you guys do I mean I cover Opie as well as outdoor power equipment, but you guys can always go to that show the outdoor power equipment show
Dan
g Yes. Yeah.
Timothy
How's that? I've never been.
Dan
It's a good show. I mean, it's definitely you know, for the LP market, but it's definitely a good show to make connections and to see the latest in the industry. I mean, they always have the latest mowers there, you know john deere there Ventrac ego. So you're, you're seeing the latest stuff in the industry. greenworks is there you know if you're in that market, definitely great show. That's the show of that market, I believe. Is it always in the same location? Yes, it's always at the Kentucky Expo Center in Louisville.
Timothy
So that's probably why it's just been a little bit tougher for me to always get out there but definitely want to put that on my schedule. So you guys are gonna be at Milwaukee any other train and hardware show in Milwaukee and other chips. You guys have planned?
Dan
Oh, nothing I can think of right now. We
Eric
do. We do. And yeah.
We've got a total score coming up. I can't remember what the artist has those to
Dan
me. We don't know for sure. Like the last minute. Take Oh, wait, we're leaving town tomorrow. What?
Timothy
Yeah, that's exciting to me, at least.
You'll let us know when when you're at the airport on Instagram and I'll be able to follow along from there.
Dan
Right? Yeah, for sure. For sure. But it's good to see you It shows man we like seeing you. It shows. We're glad you're back here in Denver air and you're rockin man, you're rocking and we got to come out to Vegas to your ranch.
Timothy
You've got to do the ranch, Santa Sandy Valley Ranch. I mean, I'm gonna be I don't know if I mean, I don't know, you guys are probably again booked at hardware show. But um,
Eric
you know, I'll come down there. I'm gonna be at the hardware show. We're there for day. Yeah,
Dan
we want to do a day at the hardware show. We can come there during one day. Are you guys
Timothy
gonna be the hardware show for four days?
Dan
I think Monday and we leave Thursday night or Friday night.
So yeah, we could cover the hardware show in like two days. Well if Yeah,
Timothy
if we can, you know, talk later about trying to coordinate something I'm I think I'm going to come real quick at the show and and head out and on the way out, you know, we could both you know, head out to the ranch and you know, whatever even if it's just you know, you know, you could get in a horse if you want or you are getting a bowl even like you said if you want but or you can just have dinner out there or something so, so yeah, shut the fuck up. Get out a bowl. You can get in a boat. We have bull riding
ATS tools in there. Yeah, yeah, it's uh you know, and we also have a little petting zoo with like, you know, the chickens, that goats all that stuff but, but yeah, and it's not far from Vegas so you guys could go in and you know, hit back that night real easy but yeah, let's say we can talk later about, you know, a good time works out so that'd be fun.
Dan
Sweet that'd be cool, man. So what's up with you? Are you working on the the Toyota?
Timothy
Yeah, I've got the Land Cruiser still, um, you know, for me right now. I mean, it's cool. You kind of get some of these cheery looking vehicles and for me this truck mechanically it's all pretty good but the body's rough. And there's a little bit of rust there's a little you know, these are notoriously are notoriously known for rust and a little bit now is bubbling up around the rear window. And so I have that plus some dings here and there that I just need to invest in. Take care of, and I just have not wanted to kind of put the cash on doing that. But I feel bad because it's a nice older vehicle that I want to, you know, I want to maintain. So that's why I'm coming out with that. And in some ways, I wish, you know, fortunately, it's not like it doesn't have to be a daily driver, but I do you know, I do definitely use it almost daily. So, um, so yeah, as you know, I mean, yeah, I have an old truck, you want to keep up and I just, um, I've kind of not, I used to do some, you know, good amount of wheeling in it. And I'm kind of pulling back from that, because I just, I feel weird dinging up like, last time, I dinged up the little rubber part of the rear end cap on the rear bumper. And, you know, it's just now finding that is kind of a big expanse, and it just looks like crap. And so I've kind of pulled back and made it trying to get it back more to the original look. So So yeah, it's fine. I mean, you know, you guys have jeeps in the old, old vehicles so so they're fun for sure.
Dan
Yeah, it's, it's cool. It's 1000. You know, it's great to have that. Plus it's fun on the weekends. You know, you go out it's like You know, you don't have to spend a lot of money for, you know, a Corvette or something. But you know, a quarter of that into a Jeep or an old four by four right at the
Timothy
ranch, you've got a couple ATVs you've got a Honda pioneer, side by side and I know you guys would have a lot of fun ripping through the desert on that thing, too. So yeah, another enticing thing to get out there. But anyway, Hey, you guys, I appreciate all of your time today. I know you guys are with the shop and everything. But thank you so much for coming on here and help me get this thing started.
Eric
Oh, thank you. Thanks, brother. And good luck
Dan
with it. And you know,
Eric
good people, you know, yeah,
Dan
no great person. So we wish nothing but the best for you and we will help you in any way we can. So thank you. Thank you.
Timothy
I'll see you in Vegas then.
Dan
Hi, brother. Thanks. Bye, guy.
Timothy
Thanks for listening to tool crave. If you like the show, please rate Review us on Apple podcasts or wherever you're listening. Follow along with us for guest updates on Instagram, Twitter and Facebook at tool crib. And feel free to email us at podcast at tool crib comm for guest suggestion, or just to say hi. Thanks again and see you soon.
Transcribed by https://otter.ai