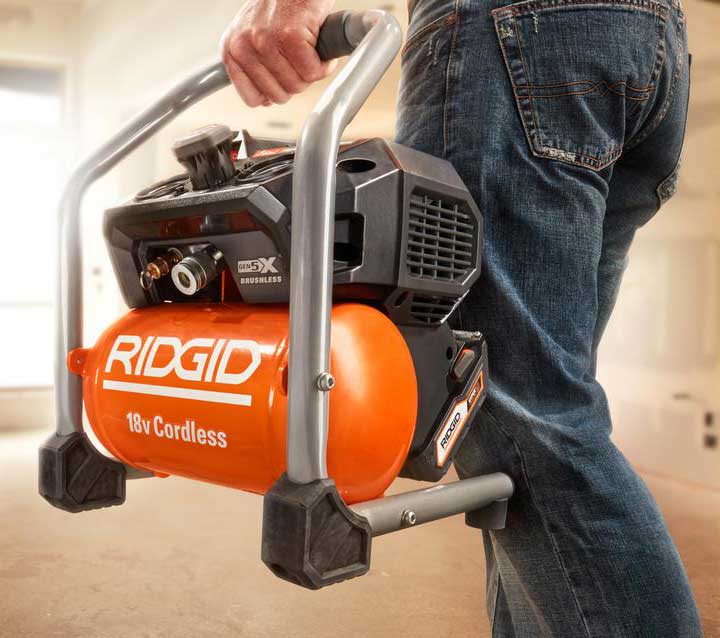 Cordless air compressors are now available from RIDGID and DeWALT, with more to come very soon. They don't have the power to drive an air hammer or break lug nuts, but they are ideal for trim work and any other household or jobsite duties that require compressed air.
Advantages of Cordless Air Compressors
Battery-powered air compressors allow you to cut the cord and can be extremely useful for using an air tool around construction sites or outdoors, virtually anywhere 110V is not available. The small size of compact air compressors are now made even more desirable by being cordless.
Disadvantages of Cordless Air Compressors
Any battery-powered tool will be limited by it's runtime. The RIDGID is powered by two 18V batteries and the DeWALT uses one 60V MAX Flexvolt battery. Runtime is significantly impacted by the amount of times the compressor needs to maintain the desired pressure.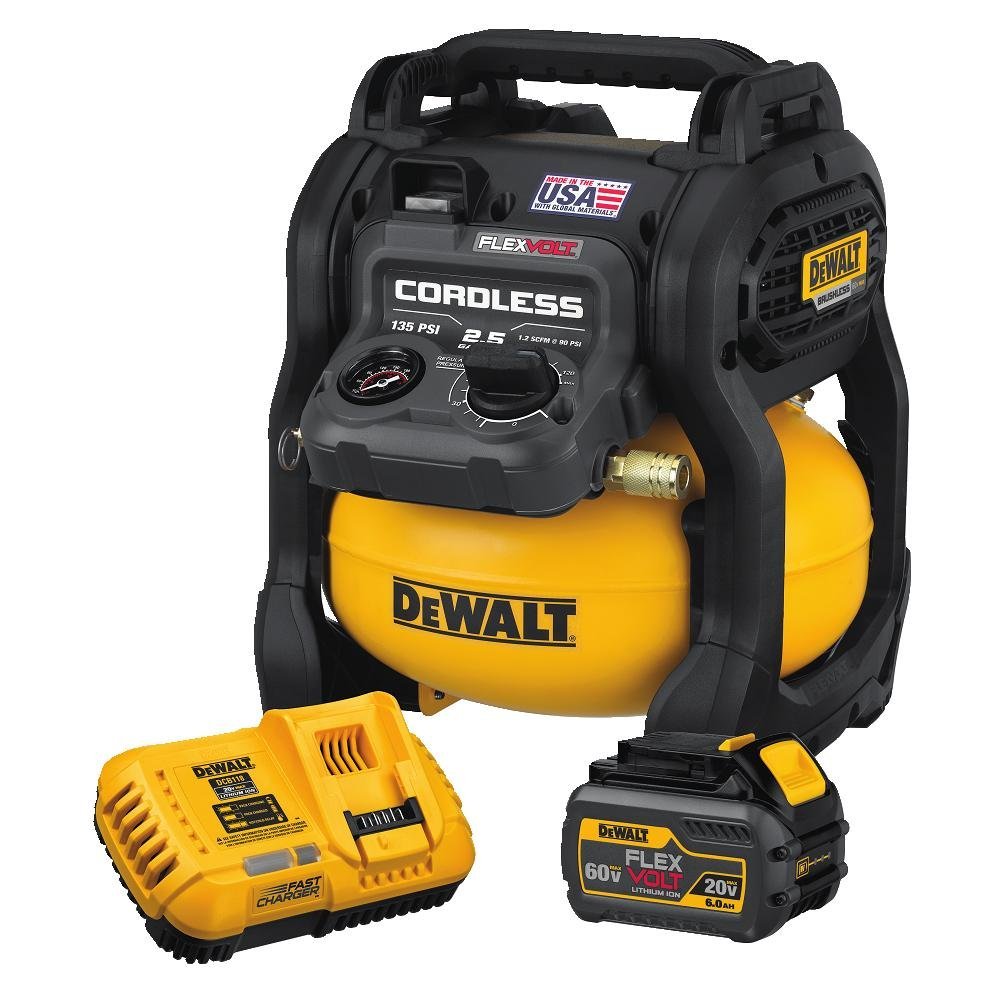 DeWALT DCC2560T1 60V MAX 2.5 Gallon Cordless Air Compressor
DeWALT Flexvolt continues to impress, by releasing new tools on a regular basis. Their latest is their cordless air compressor. It features a brushless motor paired with an oil-free pump. The one-turn regulator offers accurate pressure adjustment, so you can hit your PSI target every time. Built to handle the rigors of the jobsite, the air compressor is encased in a durable roll cage and has heavy duty rubber feet to remain solid to the ground. The flexvolt 60V max* 2.5 gallon cordless air compressor has a maximum tank pressure of 135 PSI and delivers 1.2 SCFM @ 90 PSI (tested per ISO 1217). It weighs in at 21.5 lbs. without a battery and achieves up to 1, 220 nails per charge (using one 6.0Ah flexvolt battery DCB606 and a DEWALT 18Ga brad nailer DWFP12233). The kit  includes: 1) Dcc2560 air compressor, 1) DCB606 flexvolt Lithium Ion battery, 1) fast charger.
Available for $299 from Amazon.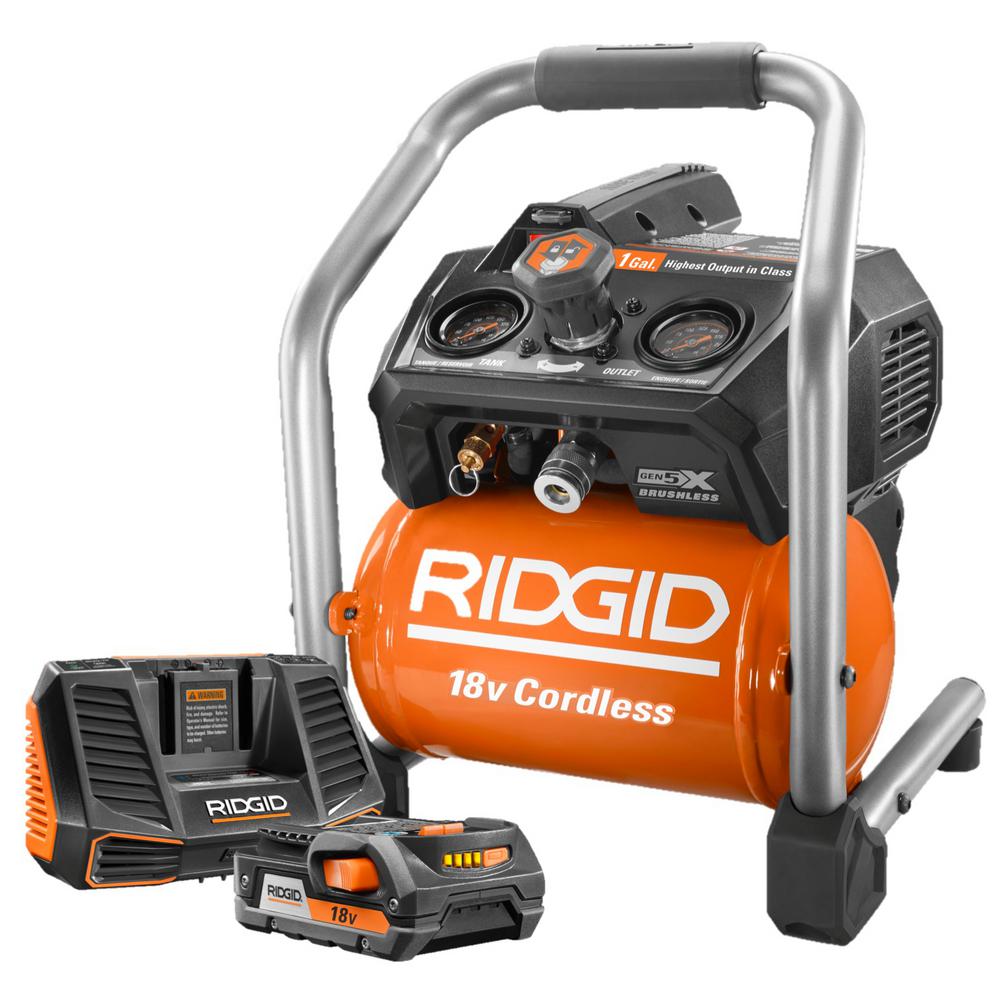 RIDGID 18V 1- Gallon Cordless Air Compressor Kit
The RIDGID air compressor kit with battery costs about the same as the DeWALT and includes one 18V battery and charger. The tool itself can be powered by two 18V batteries for longer runtime, but if you need a kit to get you going, then it's available. Slightly lighter than the DeWALT at 19 pounds but with a smaller 1 gallon tank compared to 2.5 gallons. The stats are bit lower at 120 PSI and 1 SCFM @ 90 PSI.
Available for $298 from Home Depot.
Both DeWALT and RIDGID are solidly built. RIDGID has a better battery warranty, but the major deciding factor is what system are you more invested in, or which one do you plan on investing in more. You can't go wrong with either of these cordless air compressors, and if you wait a bit longer, there will surely be options from Milwaukee, Bosch, and Makita, in the near future.